High School Musicians Perform in the Pops Concert
Jamie Horrigan
May 29, 2012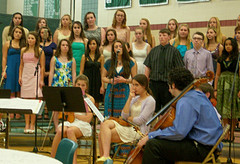 By Jamie Horrigan
Nine Hopkinton High School musical groups played in the annual Spring Pops Concert on Sunday, May 19, 2012, in the High School Athletic Center.
The Pops Concert is more of a relaxed environment than a typical high school concert. Â Most of the music selections consist of popular songs that have been arranged for different musical instruments to play, rather than the classic pieces that are typically performed by the groups. Â The audience sits in chairs around decorated cafeteria tables, and fruit, desserts, and beverages are available to the audience in attendance.
In addition to the HHS Bands, Chorus, and Orchestra that typically perform, a string quartet, two jazz groups, and two afterschool choral groups also participated in the concert.
The ladies wore casual spring dresses, while the men wore dress pants and a shirt and tie, which is a large difference compared to the tuxedos and gowns typically worn at their concerts.
Starting off the event, the HHS bands, strings, and chorus combined to play and sing "The Star Spangled Banner."  Several audience members also sang along with the groups.
For Isaac Brody, Orchestra and Choral Director at HHS, this was his first Pops Concert after being recently hired in 2011.  He led the Orchestra in "Holiday" by Green Day, and also arranged two selections from the Lion King.  Noteworthy, an afterschool choral group, the HHS Chorus, and the HHS Orchestra combined to perform "Can You Feel the Love Tonight" and "Circle of Life."
"The combined groups did a great job harmonizing together, and everybody loves Lion King," said audience member, senior, Jaime Hinkel.
"I loved it when the chorus sang "Where is the Love" by the Black Eyed Peas.  So many people had solos, and it just sounded incredible," said Flutist Jacqueline Disch, senior.
Another highlight of the concert was when the String Quartet played "Viva La Vida" by Coldplay.
"All four of the strings players had a different part, and they sounded flawless.  All of the notes blended nicely, and they were perfectly in tune," said Flutist Emily Jarvis, senior.
The Jazz Lab and Jazz Ensemble groups also had noteworthy performances.
"After three years of playing in the High School Jazz Band, I feel this concert is really a culmination of all our efforts.  It was fantastic to see how far we have come," said Senior Saxophone Player Dan Genkin. "I have been playing with some of the other members since sixth grade, so it's really wild to see the progression over the years."
For Band Director Steve Yavarow, this was his 32nd Pops Concert at HHS.  He really enjoys this spring concert because "[the group] gets to be lighter and more relaxed," while still having a fun time.
When asked how he chose the pieces, "John Williams Swings!" by Williams, "Haven't Met You Yet" by Michael Bublé, and "The Best of Miami Sound Machine" arranged by Murtha, Yavarow said, "I do research and see what I think would be appealing to both the audience and students.  There are lots of terrible arrangements, so I have to do a lot of listening."
"This is my favorite concert because there is the least pressure on us, we don't have to wear tuxedos, and there is food," said senior Ryan Webster.
This concert would not be possible without the help of the Hopkinton Music Association and the Music Department in general.
Marie Melnick and Clorinda Kirshy are two members of the Hopkinton Music Association who really stepped up to plan the event by setting up the gymnasium, arranging for food donations, and organizing the many volunteers.
"We meet as a board, and it is an annual event, so it is easier to plan," said Melnick.
In the end, Yavarow recognized the seniors, since this was their last High School concert, and some parents shed a few tears.
Each of the musical groups were able to show off all their hard work by putting on such an enjoyable concert.
"I thought all of the groups performed exceptionally well.  The Pops Concert had a very happy and relaxed atmosphere, and overall, I think it was a great success," said Flutist Ashley Kaiser, junior.