Students Visit the Metropolitan Museum of Art
By Meghan Clark
HHS Press, March 23 2016
(Hopkinton)- On March 18, students in Art History and Art classes at Hopkinton High School got the chance to see what they had been learning about in class at the Metropolitan Museum of Art. The 46 students left around 7:45 am and got back to the school around 10:00 pm.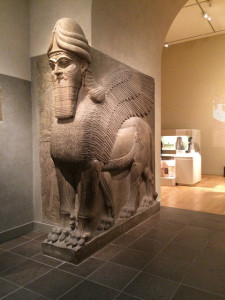 The students were able to see the art they had been studying in class like the Lamassu, Egyptian Art, Roman Art, and Greek art. As well as being a fun experience, students were able take away a lot from the trip.
"[It] is great for getting students even more excited about art," said Art History teacher Sara Williams. "When we study it in the classroom you think it shouldn't be much different in person, but they quickly find out that it is a whole different experience."
Students that went on the trip agree that it was a great experience, they were able to learn a lot from it, and they would definitely go again.
"I just loved exploring every exhibit," said Senior Chryssanthi Barris. "It was really cool to relate the topics we discussed in class to the actual images and sculptures."
Senior Gwen Maginnis also said that she had a great time on the trip and that "It's great to get a new perspective by actually seeing the works of art in person along with seeing pictures when in class."