Sean Sanford: Aspiring Director
By Cassandra Clark
HHS Senior Sean Sanford is currently underway directing the Hopkinton Middle School's spring musical, Anything Goes, which will go up the first weekend in May. This is amazing opportunity to design and control every aspect of a production has never before been offered to a Hopkinton High School student.
"He's gifted as a young director. I mean, gifted. I don't say that about very many people. And his dedication is huge. I'm talking hours upon hours upon hours upon crazy stupid hours," says Middle School Drama teacher, Hallyann Gifford.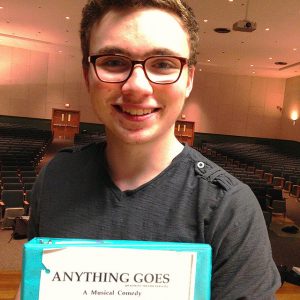 Sanford has been working as an intern for the middle school's productions since his freshman year of high school. According to Gifford, his return every year was "very rare. I've never had a kid do that. So I thought to myself, 'you know, I can give him a lot more'. And he was directing small scenes, he was fight directing with me, and I thought, 'jeez, he's really really good at this', and I thought, 'if he wants to keep staying, he could handle a whole show, easily, on his own.'"
Since February, Sanford has been working non-stop on the production. Choreography, blocking, and learning music are all huge parts of the process. Even before auditions, Gifford recalls that "he had to wade through the script, the book, the score, which is nine billion pages of black dots, and he had to analyze everything. He had to figure out who was in what number, where, when, and how. In this show? Are you kidding? We're still figuring things out. And the thing is that he had to do all of that thinking that 'this is not a show that we take from the page and translate directly' because we are working with almost seventy middle schoolers".
Apart from the general on-stage aspects of the show, Sanford is also in charge of the technical aspects. The lights, the sound, the set, and the costumes were all his job to design.
"As a director, he may not sit there and sew the costume, but he has to come up with the concept of what he wants that to look like and make that happen for the designer, which is him now too, and then give that to whoever's actually creating it and make that happen", Gifford added.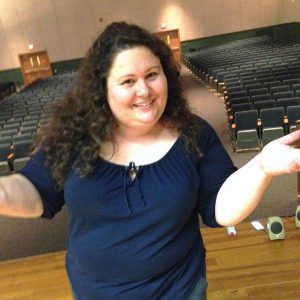 Generally, Sanford believes that "it's been just the greatest experience with the kids, with working with Ms. Gifford, with working with the music people, with just getting to create this, and watching the kids create it themselves. It's just been really amazing".
In the words of Ms. Gifford, Anything Goes is a "very upbeat, very classical broadway [musical], and fun, and wonderful, and uplifting. The whole concept is about finding love, despite obstacles. And sometimes in the non-traditional way". The show will be performed Friday May 1st, Saturday May 2nd, and Sunday May 3rd at the Hopkinton Middle School.