February's BeFree Coffeehouse Spotlights Local Talent
Article by Matthew Dickason
Promptly at 6:00 pm on Saturday, March 2nd, BeFree began their final open mic event of the year. Following established tradition, the club organized an acoustic coffeehouse in the Faith Community Church.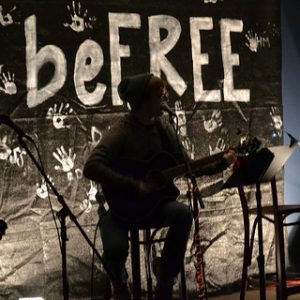 The event was successful, managing to pack the venue very quickly. Many local musicians performed, making this one of the most popular events to date for the Befree club. There were performances by both solo artists, listed below, and local bands such as Fuze, Last Minute, Relatively Close, and Merge Left.
With the help of Steve Spector, who has consistently supplied the club with the amps and equipment necessary to organize a smoothly-running event, the club was able to set up and dismantle equipment without any technical difficulties during the entire event.
The Befree Club is an extracurricular club that promotes abstinence from substance abuse, and provides a safe environment for those who shares these beliefs to socialize. Under new management, the club has seen a huge rise in popularity since last year.
David Podorefsky, a leading senior officer in the club, is amazed by the amount of progress that this event demonstrates. "We ended last year with a club of about five kids, and by the end of this year we have about fifty kids in the club", says Podorefsky.
Kiely Murray, a guidance counselor at Hopkinton High School, may have added to the increase in popularity by making the decision to hop on board the positive local impact the club has by becoming the adviser.
For a few weeks the club has been working closely with Ms. Murray to ensure the success of the event. Tasks include handling admission, setting up chairs, and supplying refreshments and snacks for the audience. "The members of the club all help organize who's playing and collaborate with Ms. Murray, our club adviser, to coordinate our events so we can make sure they are as organized as the need to be", David Podorefsky reports.
The full list of performers besides the aforementioned bands are as follows: Maia Guelfi, Nick Cassista, Josh Normandeau, Emilia Antoniadas with Caitlin and Graham, Matthew Dickason, Shea Feather, Ryan Durr with Mike Spector, Jon Katz, Felix Gisle, Haley Sinacole, Kate and Jessica, Sophie Johnson, Randy and Will, and Catherine and Jack Cote.