HHS Says Bye Bye to the Musical, We Really Felt it There
By Matthew Dickason
The Hopkinton High School Drama Club recently presented their fall musical production of 'Bye Bye Birdie' on November 21-24 in the middle school auditorium. The play was a success according to the positive reactions from audience members.
"I am thrilled about the turnout at these shows, I was surprised by the amount of people coming to see these performances. It's a testament to the talent of everyone who is a part of it," remarked ringleader and drama teacher, Valerie Von Rosenvinge, when asked about the largely crowded auditorium for the performance of 'Bye Bye Birdie'.
Many viewers left the auditorium commenting on how well put together and entertaining the show was.
"It's a really fun show. I like this production because it is very upbeat. It's so much fun to just be a part of it all," stated Josh Normandeau, who starred as Conrad Birdie in the musical.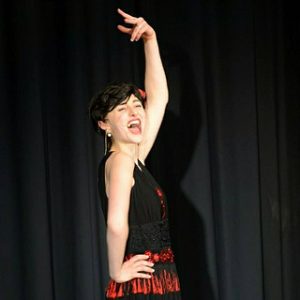 In general, the show's cast and crew enjoyed the production. They collectively agreed that the show was definitely worth all of the hard work.
"It is an honor to be working with some fantastically talented people. It is great to share this with everyone after so much hard work," added Erik Fliegauf.
Von Rosenvinge had a lot to say about the aforementioned show and the Drama Club in general.
When asked about how this production compared to previous productions she stated, "Each production is like its own special session at Summer Camp. There is a unique property with each performance we do."
According to Von Rosenvinge, she is most proud of the drama club as a whole.
"I'm proud of the fact that they take complete control of the play. I don't have to do anything. I just sit in the stands," she added.
Von Rosenvinge works collaboratively with K-12 Music Director Steven Yavarow and high school music teacher Isaac Brody to put on each musical production.
"Both Mr. Brody and [Mr.] Yavarow are incredibly talented, it's a pleasure to work with them and there is mutual respect between all three of us," continued Von Rosenvinge.
Von Rosenvinge discussed the future of HHS drama club, "We're looking forward to participating in the Fringe Festival in Edinburgh, Scotland. We're going to start doing fundraising and we will write our own original play for Scotland."
In 2011, 32 members of the drama club attended a trip to Scotland, where they performed a cast-written play at the American High School Theatre Festival portion of the Fringe. They hosted multiple fundraisers in the six months prior to the trip, including a Halloween Fun Day and an Auction/Movie Night.
The club intends to return to the Scotland Fringe Festival in summer 2015.