HHS Drama Prepares for Fall Musical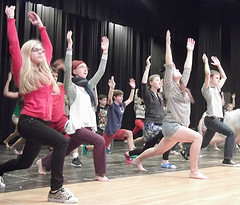 By Sydney Lauro
The Hopkinton High School drama program has begun the long process of preparing for the fall production of Les Miserables on November 15, 16, 17, and 18. The theater director Valerie Von Rosenvinge and music teacher Isaac Brody have joined forces to put on the most challenging show they have ever attempted at the school with the largest cast there has ever been for a musical.
Senior, Jaymie Hession, who has participated in drama since sixth grade, said that a typical show requires "about two and a half months of rehearsal."
Alexandra Graham, playing one of the lead roles said, "We have as much fun as we do work, which is a significant amount."
The cast rehearses everyday after school in the auditorium and music room until four and until 6:30 the week before the show. The kids work with Mr. Brody on the musical score and with Von Rosenvinge on acting workshops, warm-ups, and practicing scenes.
The show requires so much vocal work that the lead roles were cast in the spring of last school year to allow the students to practice their music before school began. According to Von Rosenvinge, "This allows us to really focus on the ensemble and bringing the performance quality to the highest level."
Les Mis is also a large financial commitment. Seven professional musicians are being hired to supplement the orchestra, the raw materials for making the set are expensive, and costumes must be rented and sewn. The total budget is an anticipated $12,000.
"In order to break even, I need at least 1500 people come to see the show," Von Rosenvinge said.
Von Rosenvinge's favorite part of being the drama teacher is that the show belongs to the students, which makes up for the expense.
"Watching their pride in that provides me with the most satisfaction. It means I have taught them well. It means I have done my job," said Von Rosenvinge.
"Going to rehearsal and seeing your cast mates awakens something inside of you," according to Hession. "My favorite aspect of doing drama is the community that we create for ourselves. Anyone and everyone is welcome and we are all just dancing and singing with one another. "
The students really care about what it is they are doing. "It gives us a chance to play a role that we wouldn't get to otherwise," said Graham.
Von Rosenvinge explained, "The show chronicles the struggle of the down trodden during the years after the French Revolution and their failed attempts at having their voices heard…there is a love story that plays out during the story to provide a balance and show that hope and goodness can emerge in the midst of tragedy."
"Objectively it's probably the best musical of all time," noted Alex Kirshy, senior, who will be playing the lead role of Javert.
Von Rosenvinge wishes for "people to come and see it… for the kids who will spend every afternoon between now and November 15 dedicating their time and energy to bringing this story to life."