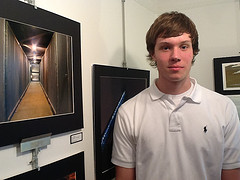 By Zachary Sellman
On Thursday, March 22, artwork from nine Hopkinton High School students was featured at the opening reception for the 2012 Hopkinton High School Honors Art Exhibit presented by the Hopkinton Cultural Arts Alliance.
This year's featured artists were Hannah Green, Jaime Hinkel, Kaelynn Maloney, Nicole McLaughlin, John Oldach, Nicole Thomson, Alexis Stefano, Nicole Stetson, and Aleck Venegas.
"There are many goals of the Annual Honors Exhibit. It's an excellent opportunity to showcase the highest caliber student artwork while providing student artists with an authentic gallery experience. Equally important, the CAA makes artwork accessible to the local community, providing opportunities for people to view, interpret, and understand contemporary art in the context in which it was created," said Kris Kellenberger, coordinator of the show and art teacher at Hopkinton High School.
"Most of the work there I had never seen before, and I was impressed with the quality of the work. The ceramic pieces stood out to me in particular," said Ben Faucher, senior at Hopkinton High School. "I'm always amazed at the amount of artistic talent we have at our school."
Junior John Oldach displayed nine photos in the Annual CAA Honors Exhibit. "I got my motivation mostly from what I saw when I was driving around looking for photographs. I would drive around at night with my camera and look for interesting compositions. I pretty much only went out at night because I work after school during the day and that was the only time I had available."
"If I weren't graduating this year, I'd definitely go again next year, and if I had known about it last year, I would have gone then," said Faucher.
"I am really happy with how many people came to the show. I didn't realize how big of a deal the show was until I saw the amount of people coming through the door. I also want to thank my photo teacher Sterling Worrell for being such a good mentor and providing me with inspiration for my photographs and also for being patient with me as we decided which photos to print and put in the show and which ones to throw out," said John Oldach. Oldach was interviewed by HopNews and the Hopkinton Patch.
The opening reception was on Thursday, March 22, from 6:00 to 7:00 PM. There were also public viewings on Saturday, March 24, and Sunday, March 25, from 2:00 to 4:00 PM.
Kellenberger said, "I think the show went very well. The work was strong and looked great in the space. The participating artists definitely deserved the experience and fully embraced it. Plus, the turnout at the opening was amazing! One of the best things about Hopkinton is the way the community really supports one another and loves and appreciates the arts."