HHS Music Department's Annual Spring Concert Impresses All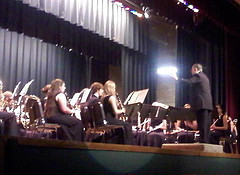 By Jaime Hinkel
Wednesday March 21, 2012- The talented musicians of Hopkinton High School performed at the annual spring concert at Hopkinton Middle School, the last one before the annual MICCA competition.
The HHS chorus, Repertory Band, Concert Band, string ensemble, and a new choral group called "Noteworthy" all performed. Students in Concert Band have auditioned for a spot in the group, whereas in Repertory Band no audition is required.
The string ensemble, conducted by HHS choral and strings teacher Mr. Isaac Brody, performed first. They performed several pieces including Capriol Suite by Peter Warlock a piece of music comprised into four parts: Basse-Dance, Pavane, and Mattachins (Sword Dance), Korobeiniki, a traditional Russian song, Allegro from "Autumn" of The Four Seasons by Vivaldi, and Emerald Falcon composed by Richard Meyer.
Next an audition-only ensemble group called Noteworthy performed at their first music department concert. This ensemble rehearses once a week after school. At the concert, they performed two pieces: Song of Wandering Aengus by Halley and Yeats and Tota Pulchra Es, which means in English "you are completely beautiful", by Maurice Durufle.
Director of the group, Mr. Brody, says that  "the group was formed to give students in chorus the opportunity to do more challenging music than is possible with the full chorus."
Next, the HHS repertory band, under the direction of Mr. Steve Yavarow, performed three pieces, Midway March by Williams. arr. Moss, As Summer Was Just Beginning by Daehn, and Toccata for Band by Erickson. Students in repertory band had to go through an audition process in order to be a part of this ensemble.
The Hopkinton High School Chorus, led by Mr. Brody performed four songs. The first was "lovely simple folk song" called Skye Boat Dream by Traditional. arr. Greg Gilpin. The  second was an energetic spiritual called Didn't My Lord Deliver Daniel by Hogan & Day. Next, a song called Set Me As a Seal by Rene Claussen that Brody calls "a beautiful and rich song, with biblical text from the Song of Solomon."
The last song performed by the HHS chorus was called Kungala, an audience favorite. "Kungala translates as 'a place to sing and shout' and is the name of the Australian place that inspired the composer. Â It is a very energetic piece that includes shouts and other non-traditional sounds.
To end the evening the Concert Band, also under the direction of Mr. Yavarow, performed three pieces. Army of the Nile by Alford, Rhosymedre by Vaughan Williams arr. Beeler, and Arabesque by Hazo. Both the members of concert band as well as Mr. Yavarow agree that Arabesque is without a doubt the toughest and most technical piece to perform. Yavarow chose these specific pieces in order to meet certain MICCA requirements.
"The requirements are that you must play a march, a piece of music from the National Band Association graded list of music, and another selection of 'festival quality'.  From there, I select music that is great literature, music that is appealing and educational, and music that fits the strengths of the group" Yavarow explained.
"The three songs that we played are all very different and I think that the band as a whole enjoys to play Arabesque the most because we have never played anything like it before" says senior flute player Carolyn O'Leary.
As the annual MICCA (Massachusetts Instrumental and Choral Conductors Association) competition approaches, both conductors are focusing on perfecting and fine tuning every aspect of every song. Yavarow says "each time we rehearse and perform, our goal is to be better than the last time".
Mr. Brody's hopes for the chorus are that "in our remaining rehearsals before MICCA we'll work on further refining each of the pieces. Â We'll work on having greater precision of rhythm, articulation, intonation, and pronunciation".
Repertory Band will be performing Saturday, March 31 at 10:30 am at Hopkinton High School and Concert Band will be performing at Hopkinton High School on Friday, March 30 at 8:30 pm. The chorus will be performing at Algonquin Regional High School on Saturday, March 31 at 11:20 am. Brody will also be taking Noteworthy to MICCA's annual solo and ensemble festival on Saturday, May 5 at Concord-Carlisle High School, time unknown.