Hopkinton Ska Band "Splatter Cactus" Prepares for Exposurefest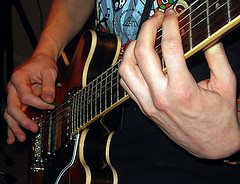 By Sean Pettepit
After their victory at the annual Hopkinton Battle of the Bands, Splatter Cactus, a local Hopkinton Ska band, is nearing the onset of their first major performance at Exposurefest, which takes place on May 21st at the Worcester Palladium.  The seven-piece band not only plays cover songs, but they compose their own original material as well.
Splatter Cactus formed after some of its members watched a Ska band play at a Knights of Columbus show, which HHS students Lucas Carbonneau (guitar) and Ben Hall (bass) were performing at.  Dan Quigley (vocals) and Tyler Mourey (guitar) then brought the idea of forming a band to the table, and added Joey Grabmeier (drums), Ryan Hendry (horns), and Joe Barra (saxophone).  "Ska is my favorite genre of music, and I've always wanted to form a ska band," said Mourey.
The band members of Splatter Cactus all have a significant amount of musical experience under their belts.  Mourey previously played in a band called Lotus Grove, while Grabmeier and Barra played in Shut Up James!, a two-time winner of the Hopkinton Battle of the Bands. In addition, Carbonneau has played in Bandicoot and Incendie, and Hall is a part of these bands as well.  Quigley, Barra, Grabmeier, and Hendry also have experience playing in the Hopkinton High School Concert Band.  These experiences contribute greatly to the group's diverse sound, which also stems from their various influences.  Streetlight Manifesto, RX Bandits, Gogol Bordello, We Are the Union, State Radio, Big D and the Kids Table, and Chase Long Beach are just a few of the musical groups that Splatter Cactus draws its sound from.
The structure of their original songs, however, is derived from Tyler and Dan's writing process. "Tyler writes the main guitar parts and I collaborate to write the lyrics, then each member writes their own respective parts," explained Quigley.
"As a band, we're really pumped and nervous [for Exposurefest] because it's the largest crowd we've played for and it's only our 2nd show," said Barra, "Overall, there are over 1,000 people expected to attend the event."
More important than Exposurefest, the band wants to continue to gain both experience and an even larger fanbase.  Carbonneau stated, "Looking towards the summer, we want to play as many shows as possible before some of our members leave for college."