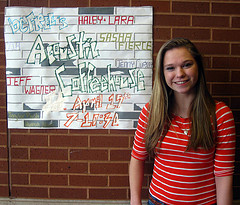 By Soumya Mehrotra
This Frida,y April 15th, BeFREE is hosting their seasonal coffeehouse at the First Congregational Church of Hopkinton from 7:00-10:30 pm.  Juniors Haley Batchelder, Halley Barton, Olivia Spector and many other HHS students have been practicing for this performance for months.  The event is chaperoned and open to all, and tickets are $3 each for students, parents, and seniors.  At previous coffeehouses, more than 100 students and parents have attended, and according to Mrs. Hadley, coordinator of the event, they are expecting a large crowd this year as well. Water, baked goods, and fruit will be served for free.
One of the participants, Olivia Spector, said, "I am singing three songs; 'Forget You' by Cee lo Green, 'Follow Through' by Gavin Degraw and 'Disturbia' by Rihanna. This is my first time performing at a coffeehouse, so I'm nervous but really excited."  Mrs. Hadley said, "We host these coffeehouses to show students at Hopkinton High that you can still have fun by remaining above the influence.  As always, I am extremely excited to see what the students have prepared for us this season."
"At this coffeehouse, we are also having some bands play, which we have never had before. I know that this year, the craze for bands have increased so I think the audience will really like it," said Mrs. Hadley.  This is the last BeFREE social event of the year, and Halley Barton stated, "I hope a lot of people attend this event because everyone performing is very talented, and they should all be recognized." Participant Haley Batchelder stated, "I always have a lot of fun at any BeFREE events, whether I am singing or not. Everything is really laid back and stress-free."
Donations for snacks and refreshments can be dropped off at 11 Robbern Road or 68 Frankland Road by 4:00 pm on Friday, April 15th.