Deadline Approaches for 5th Annual Photo Contest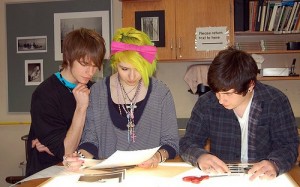 By Catherine Leonard
The HHS Photo Club is encouraging all aspiring photographers and casual picture-takers alike to gather up their best work and enter it in their 5th Annual Photo Contest.  Photos should be entered by Monday, March 14th, and can be dropped off in the submission box located in room C203.
Aleck Venegas, Photo Club President and organizer of the contest, stated, "Anyone in the school can enter, and most people enter digital pictures."  All types of photography are accepted, including film, digital, black and white, and color.  Digital files must be in JPEG format, no more than 10mb in size, and can be sent to [email protected].  Printed photos must be 5"x7" or larger.
Sterling Worrell, the High school's photography teacher, selected the two judges of this year's contest: HHS Art History teacher Sara Williams and HHS Studio Art teacher Tracie Dunn.  "The judges will be critiquing the photos on factors like composition and meaning," Mr. Worrell said.
Contest winners will have their photos featured on hhspress.org and receive gift cards.   "There is a winner in black and white, color, and then best in show," Venegas stated.  When asked about the types of photos entered in the past, he said, "There's a lot of variety actually.  We get a lot of different types of submissions.  Plus, you can enter as many times as you want."  The club will continue to accept photos until Monday, March 14th.