HHS Press Welcomes the Satellite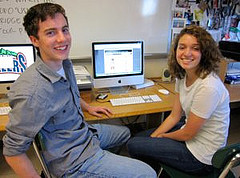 By Kayla Sullivan
Hopkinton High School's arts and literary magazine, the Satellite, is now functioning online with HHS Press in addition to its original booklet form.  The magazine is advised by Ms. Mary Ann Brayer, an English teacher at HHS. Heidi Schillinger, a senior at HHS, and Becca Govoni, a junior, co-edit the magazine.  The Satellite "is a source for creative expression at the high school, and we're hoping for kids to participate through music, literature, and art," Becca said.
Last year, the magazine was distributed in paper form towards the end of the school year. Â By going online, the editors hope to be able to publish submissions as they come in throughout the year. Â The online Satellite, functioning as an arm of HHS Press, is now up and running. Â "So far, we have poetry and art submissions, and we're hoping to put out a video by second semester. Â Also, short stories will be put in," co-editor Becca Govoni stated. Â She also hopes to create a "best of" edition of the Satellite at the end of the year.
The Satellite's page on HHS Press has sections for Art, Multimedia, Poetry, and Prose. Â The Satellite staff is encouraging all students to submit work in the form of art, literature, or music either to Ms. Brayer or to their email address, [email protected]