HHS Drama Ensemble headed to Scotland!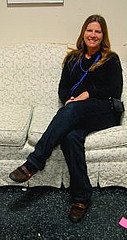 Article by Tony DeMore
In 2010, Hopkinton High School Drama Ensemble was awarded a spot in the prestigious 2011 Fringe Festival in Edinburgh, Scotland, by the American High School Theatre Festival organization.
The AHSTF is a U.S. based organization that assists 40 to 50 high school ensembles each year in traveling and performing in the Fringe Festival. Hopkinton was nominated by Wellesely High School's theatre director, Steven Wrobleski, in 2009. A long-time colleague of the HHS Drama director, Valerie von Rosenvinge, Wrobleski's own ensemble has traveled to the Fringe.  Accepted by the AHSTF, HHS Drama applied for participation in the Fringe during the early months of 2010. The nearly two year process includes college-level theatre professors that examine many facets of any ensemble, including past performances and participation, as well as size and philosophy of the program.
Valerie von Rosenvinge, the HHS Drama director, volunteered her opinion and excitement by stating, "Participating in the Fringe festival is exciting for a thespian of any age. To receive this honor as a student can be the pinnacle of a high school career. All the work that has to be put in to fund raise, write, and rehearse for our performance will most certainly be worth it when the kids find themselves sharing their talents with an international audience."
This is the first time that Hopkinton has been nominated to the AHSTF. Being accepted on the first application is a great honor in the theatre community. Â HHS Drama will be writing and performing an original play that is titled "Empty Page, Empty Stage." The play is about a special needs girl who is asked to give a book report on her favorite book. Thirty-three students will be participating in the trip. The play will showcase an important idea or portion of storytelling that represents each and every person involved. The trip is scheduled for the first session of the Fringe, August 2nd through August 15th, 2011.