On Your Mark, Get Set, Act!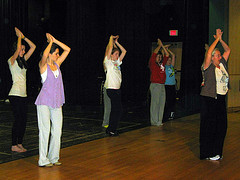 By Taylor Bush
The Fall Musical Joseph & the Amazing Technicolor Dreamcoat is off to a running start, with rehearsals already in action over a month before show time.  It's set to premiere November 12-14th.
Valerie von Rosenvinge, director of the HHS Drama Department, has been envisioning this musical since last year. The idea to produce this musical came to Ms. von Rosenvinge while planning the Drama Club's Scotland trip at the end of the 2009-2010 school year.
Producing this musical is a big task. Â Luckily, Ms. von Rosenvinge has the help of many seniors. Â Olivia Kent, stage manager of the play and a senior at HHS, said, "I help run rehearsal, assist Valerie, order costumes, collect money for shirts and extra, keep the kids updated, organize necessary props and scripts, and during the actual production I call the cues."
Auditions for Joseph & the Amazing Technicolor Dreamcoat began during the first week of school. When asked how the major roles were chosen, Ms. von Rosenvinge replied, "I try to envision each person in the role. You know, it's not just about how they appear, it's also about vocal range and if they're a brilliant actor."
Producing the musical takes a lot of preparation, most of which takes place over the summer. Â The Drama Club must do everything from researching previous casts to creating the color scheme. Â Once Ms. von Rosenvinge completes her vision of the musical, she hands it over to the senior "techies" to tie up any loose ends.
This musical is very different from past musicals. Â Olivia Kent, stage manager of the play, stated, "The main thing that is very different is that there is no spoken language. Also, normally in the original Andrew Loyd Weber story, there is one narrator who sings along the whole story, but we have nine girls singing and narrating the story. It is the most evenly divided (in terms of roles) musical we have done in awhile."
Joseph & the Amazing Technicolor Dreamcoat premieres on November 12 at 7pm, November 13 at 2:30pm and 7pm, and November 14 at 2:30pm.