Beach Bunker Artwork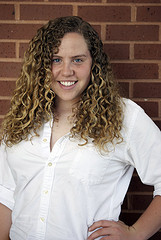 By Shannon Wright
At Hopkinton High School, senior Samantha Oleson is known for her unique artistic abilities that have brought her cake decorating business to life since late summer 2009. At this time of year, with so many graduation parties coming up, she is especially busy creating designs and preparing various cakes for many of her friends' parties.
After keeping up this business for over a year, she continues to enjoy decorating and is always taking on new customers. Friends, peers, and even teachers line up for a dozen of her beautifully decorated cupcakes or one of her incredible cakes for any occasion. She began this unique business after taking a cake decorating class at Keefe Technical High School last spring, and started bringing her cakes home or to share at school.
"People just started asking me to make them a cake," Oleson said, as if she were still surprised how quickly her skill caught on. Word spread, and Beach Bunker Artwork was created. Her website was formed to give customers background info, prices and a look at her work with three different photo galleries, including cupcakes, cakes, and her colored-pencil house portraits that she started selling long before her cake decorating days.
Samantha's cakes and cupcakes are custom-made, and she has made everything from snowmen and campfires on her cupcakes to a sculpted Colosseum cake. Her creativity is endless. "I think my favorite ones to make are the sculpted cakes because they are more experimental and it allows me to be more artistic and creative," she said.
Even though her senior year is coming to an end, "I really do enjoy it [running her business], and I would like to try doing it out of my dorm." She plans to attend Carnegie Mellon University this fall, so unfortunately for Hopkinton, we will not be enjoying her custom creations for much longer!
Sam's favorite part is,"Seeing people's reactions! It's so gratifying. I could definitely see myself owning a bakery someday."
If you would like to view Samantha's work, go to her website: http://beachbunkerartwork.webs.com/