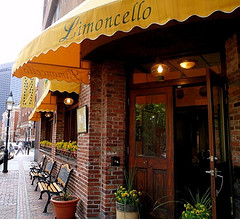 Review By Sebastian Gutierrez
Limoncello, a highly regarded family Italian "ristorante" tucked away in the famed cobblestone streets of the North End, in Boston, whips up some exquisite comfort food with roots in southern Italy. The prices are a little high, but the customer gets what they pay for because the food is delicious and the portions are generous, yet, reasonable.Limoncello is a quaint restaurant that smells of fruity olive oil and bread, typical of southern Italy. Walking into the restaurant, there is a beautiful mural of the Italian countryside painted on the wall across from the entrance. The corridor between the two front doors serves as a small waiting area. It is like being on deck for a delicious meal.  On the walls of the waiting area, there are photographs of the owner with some of Limoncello's most famous guests, such as Sting and Danny Devito.
Families are seated close to each other and the stuffy air creates an authentic metropolitan dining experience. The owner, a proud middle-aged Italian man, greets you at the door after he shuffles through the crowds, calling out "Party of 2… party of 3!" in a thick Italian accent that makes most giggle.
By looking around the restaurant, it is clear that the restaurant has a very loyal clientele. Many customers don't need menus, know just what to get, and have a usual dish. The wait staff is friendly and quick paced, but barely comprehensible with their authentic Italian accents. No need to ask the waiters what is good here because they will say that everything is "delicisisio," which is indisputable.
Limoncello uses nothing but the freshest ingredients, Â which I noticed when devouring the Caprese insalata. The tomatoes were plump, juicy, and firm. The basil was abundant, a trait typical of southern Italian cuisine. The Buffalo Mozzarella cheese was made in house and was incredibly delicate and delicious. Â The vinegar and olive oil were a perfect sweet and sour combination.
Following my salad, I had the Fettuccine Al Nero de Seppia Con Astice, or fresh black squid ink fettuccine pasta with Maine lobster meat. The lobster meat was tender, sweet, and perfectly cooked. The creamy lobster red sauce was light, yet hearty, and balanced out the strong flavor of the squid ink fettuccine. The sauce was herbaceous and overall, was one of the best pasta dishes I have ever had. This simple meal was absolutely satisfying. The pasta was homemade, and was beyond delicious. Each bite left me itching for more. The portions were ideal, not overwhelmingly large, as typical Italian restaurants usually offer.
The dessert menu was disappointing and boring. They offered a tiramisu which was sub par, a few flavors of homemade ice cream, and an assortment of fruits and nuts. The meal is ended with a complimentary glass of the signature Italian liquor of Limoncello. Dining at Limoncello is more than just a night out in the North End, it is an experience.