HHS Drama Ensemble Performs Spoon River Anthology
A talented cast of 22 students and their director Valerie von Rosenvinge recently presented  "Spoon River Anthology" in the high school auditorium.
"They did a remarkable job," said von Rosenvinge, looking back on the show's success.
Stage manager and high school junior John Thornton said "It was such an incredible learning experience for me and for everyone else involved because everyone was so committed and so energetic and so happy to be where we were."
After months of rehearsals, the cast and crew had three crowd-pleasing performances on the weekend of March 10.
"For me, honestly, the true measure of whether I have been successful or not is if the kids are proud of their work and I think they were," said Von Rosenvinge.
"Spoon River Anthology," a play written by Edgar Lee Masters in 1916, is a collection of poems that narrates the past lives and secrets of the residents of Spoon River, a fictional small town in Illinois.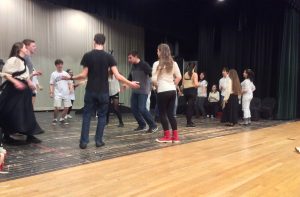 Each actor played three or four characters. According to von Rosenvinge, the ability of one actor to create different believable characters is very challenging.
"It was a real honor to get to work with everyone," said junior Megan Sheeran. "Everyone worked so hard, and there was so much talent in this cast."
This was true. From the beginning of January to the middle of March, these actors rehearsed diligently to bring this piece to life. Von Rosenvinge devised a unique rehearsal process, implementing the techniques created by Michael Chekhov, a famous Russian director and actor, which ties the physical and psychological aspects of acting.
Thornton explained that each actor went through a process of analyzing their monologues in depth, creating a gesture map for it, and then deciding what physical stance they wanted to take for it. A gesture map is a sequence of motions that corresponds to the words that the actors speak.
"Once you were comfortable with your monologue, Valerie would have everyone sit in the audience and you'd go up on stage and perform it," said freshman Matthew Dempsey. "Then, everyone would give you feedback."
According the actors and actresses, this feedback panel was very helpful. "That made the kids really invested in the other characters," said von Rosenvinge, whose intention was to make the actors fully aware of who the other characters are in the story.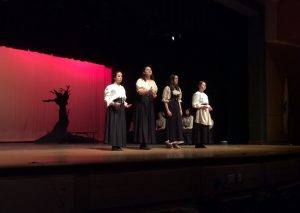 The students certainly appreciated this rehearsal style. "It was great to be at rehearsals with such talented people who helped me perform my monologues and also understand how to act in general," said foreign exchange student and senior Federico Longobardi, who had never been in a play before.
After it was all over, the actors were sad to see it end, but they enjoyed the whole process and had fun with their cast mates while it lasted.
Von Rosenvinge and the Hopkinton High School Drama Ensemble are now preparing for auditions for One Acts, a collection of one act plays written by Hopkinton High School students.