By Cassandra Boyce
HOPKINTON- The world has turned it's attention toward the rising war in Syria, where this volatile country is in great turmoil. Many complicated issues surrounding the Syrian crisis, including the use of chemical weapons, are affecting the Middle East and have also made it an international concern. Two Hopkinton families in particular have a deep and current connection to the conflict with family ties to the country under attack.
According to Al Jazeera News, "The UN says more than 100,000 people have died since the Syrian uprising began in March 2011. More than two million people have fled the country. After months of fighting between government forces and rebels, an alleged chemical weapons attack in Damascus has escalated diplomatic tensions."
One family impacted by the war in Syria includes Jasmin and Nora Dieb, who are a twelfth and an eighth grade student in the Hopkinton School District, respectively. Their parents, Ammar and Ola Dieb, were married in Syria and moved to the United States in 1995. The family has lived in Hopkinton for 14 years, and they travel to Syria almost every summer to visit extended family.
"Terrorists are trying to convert Syria into an Islamic state like Somalia and Afghanistan, and are trying to get rid of any Christians in Syria…They are terrorists that our government has been fighting for almost 20 years in Afghanistan, Somalia, Yemen, et cetera," said Ammar Dieb.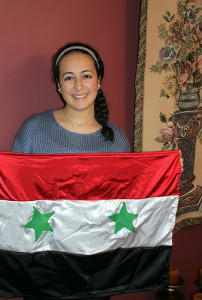 "Whoever said that The President, Bashar Al- Assad, is ordering the Syrian Army to attack the Syrian people is a complete lie. The President has been helping Syrians and has been defending his country…This is a terrorist attack which has been funded by many countries around the world," shared Jasmin Dieb as she described her point of view on the war.
Wire service Reuters, as posted on Al Jazeera News, states, "Syrian President Bashar al-Assad agreed to join a global ban on chemical weapons after Washington threatened airstrikes following a major sarin gas attack on rebel-held territory in August. The Damascus government blamed its enemies for the attack."
Far from Damascus, the Dieb's extended family lives in western Syria in the city of Tartous located along the Mediterranean Sea. "We are lucky that there are no current issues where my family live," continued Ammar Dieb.
Although the city of Tartous is a safe area, Jasmin Dieb is still concerned about her family that lives there. "My entire family lives in Syria. I am always concerned about my family because I just want them all to stay safe. But, I know that the city that they are living in is safe, so I am not as concerned as others," she said.
"Syria has changed a lot in the past three years, but that doesn't mean my views of Syria have changed. I will always love Syria and I hope everything goes back to normal. I can't wait to see my family next year too! I am always thinking of them," stated Nora Dieb.
The Diebs' experience traveling to and from Syria shows how difficult it can be to travel into or out of the country. "Because it is not very safe in Damascus, the airport has been shut down for awhile. So, when people have to travel to Syria, they have to go to Beirut, Lebanon, and then take a plane to Lattakia, Syria or just drive across the border. However, sometimes the border is closed because there might be an army stationed there or too much fighting. Driving is not really safe, but many people have taken that risk to get to Syria," included Jasmin Dieb.
Ammar Dieb recently traveled to Syria to visit family. When asked how Jasmin felt about his visit, she responded, "I am not going to lie I was so worried. I wasn't worried about the plane ride, I was just worried about the drive across the Lebanon-Syria border. But, thankfully he's safe."
In areas that are not being attacked, like Tartous, communication hasn't been an issue. "Travel has definitely been hindered, but communication is not. Everyday, my family and I skype, we talk on the phone, and text each other," says Jasmin Dieb.
As part of another family feeling the consequences of the Syrian civil war, Michael Mallouh disagrees with the Assad government's actions.
A junior at HHS, Michael Mallouh has an opposing view and would call this a "religious war, specifically against moderate Muslims and Christians…People are being betrayed by their government."
Mallouh says, "I do have family members living in Syria. I have a Grandmother, Uncle and cousin. They live in Aleppo, which is under great fire now, and I am greatly concern as the conflict nears their houses more and more each day."
Aleppo has become an international flashpoint. According to Deborah Amos at NPR News, "The regime threat to rebels in Aleppo was so grave, that rebel commanders sent out emergency calls for all fighters to head to the front."
Those threats were not in vain. As stated on Al Jazeera America, "On Thursday night [November 14], a government air strike hit its command post in Aleppo province." During the air strike, Abdul-Qadir Saleh, founder and head of the Tawhid Brigade, was severely injured and pronounced dead on Monday, November 18.
In areas like Aleppo where fighting is more severe, it is very hard to travel because of "checkpoints in and out of each town, some belonging to the opposition and others belonging to the government," said Mallouh.
In some areas, communication between families has also been, "Very difficult as long distance calls are often cut short by the Syrian government ending the call," continued Mallouh.
"This war has made me realize how lucky we are to live in a nation that gives us great freedom of expression, and allows us to speak out against the government if we choose. It also made me appreciate the great amount of stability we have in America, and that should not be taken for granted," stated Mallouh.