HHS Helps Grant Wishes With Make-A-Wish
By Austin Adams
The Make-A-Wish Foundation is known across the country for its work in granting wishes to terminally ill children, but what is less known is that there are students right here in Hopkinton that help the foundation reach its goals via fundraisers.
"The Make-A-Wish club [at HopkintonHigh School] is one of many clubs across the country that raises money for the Make-A-Wish Foundation so that children with terminal illnesses can fulfill their wish," said Hopkinton High School Make-A-Wish Club Co-President Katie O'Loughlin.
The club, advised by History Teacher Stephanie Potito, spends the entire school year running fundraisers and events to raise money for the Make-A-Wish Foundation. They have already made more than $300 this year from a Halloween Carnival, a pie-throwing event during school lunches, and a Halloween ghosting fundraiser.
The Nationwide Make-A-Wish Foundation began in 1980 and raises money in an effort to grant wishes to terminally ill children.
According to their website, they grant one wish "every 38 minutes" to a child with a terminal illness. Each wish costs an average of over $8,000 to fulfill. In 2012 alone Make-A-Wish granted over 14,000 of these wishes, meaning that the work done by Hopkinton students is incredibly valuable to the overall effort.
Make-A-Wish has a long documented reputation for improving the lives of terminally ill children. According to their recent survey, "89 percent of doctors, nurses and health professionals surveyed say they believe a wish experience can influence wish kids' physical health."
What Make-A-Wish strives to achieve is perhaps best summed up in the words of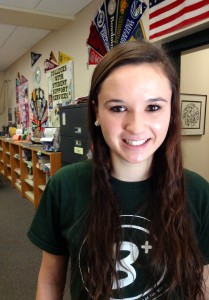 then 13-year-old Erik Martin, who in 2010 became the savior of the city of Seattle as part of his wish to be a superhero.
When asked for comment afterwards, Martin's only words were, "This is the best day of my life," as stated in The Seattle Times Online Newspaper.
In addition, the overwhelming majority of people and communities that participate in Make-A-Wish programs report an increased sense of compassion and faith in humanity.
"Being in the club makes me feel like I'm doing something to really give back. It's truly a sad day when a child is diagnosed with a terminal illness, so it at least helps to know that we are doing everything we can to make the time the child has left as memorable and enjoyable as possible," stated Kora Sileo, Co-President of the club, "It's a great cause."
Club members get to see a great side of their community; a network of people who will do anything to give them a hand.
"Being a member of this club has made me more appreciative of all of the people in our community that have really helped the group when it comes to organizing fundraisers and raising money," continued O'Loughlin, "For instance, many of the teachers at the school have volunteered their time to be a part of our pie-throwing fundraiser."
The club has already raised much more money than they had initially anticipated, and they promise more events to come throughout the remainder of the school year.