School Year Comes to a Close for the Class of 2011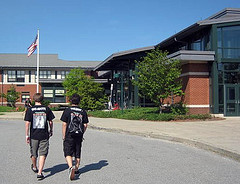 By Sean Pettepit
As June 3rd approaches, another wave of Hopkinton High School graduates is getting ready to start the next chapter of their lives. Â Wednesday, May25th, marked the last day of classes for seniors.
The end of the seniors' high school career often comes with a mixture of different feelings. Â Many feel an overwhelming sense of freedom and achievement, but also feel nostalgic as they reflect on the past 12 years.
"Although I find myself torn between my nostalgia and open-ended future, I feel ready to be taken by the current of life to even greater things, while still holding the friends and memories I made secure in my heart and mind," said HHS senior John Elhilow.
Last Friday, the seniors participated in a Senior Transition Day, in which they talked with counselors in open discussion about college life and leaving high school. The idea is both exciting and nerve-wracking to many students.
"It honestly hasn't hit me yet, but when it does it'll hit hard, but I'll still be excited for college," said HHS Senior Joe Barra.
Right now, seniors are looking forward to Senior Week, which is full of events like the Senior Picnic on May 31st, the Senior Boat Cruise on June 1st, Senior Recognition Night on June 2nd, and, finally, the graduation ceremony on June 3rd.
During these events, Class of 2011 will be celebrating the past 12 years they have spent together and looking forward to the future.