Junior Varsity Players Prove Their Skills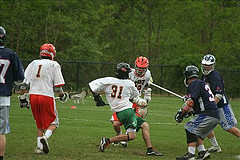 By Kelsey Krapf
There comes a time in every athlete's life when they have the chance to show what they're really made of; an opportunity to impress their coach or perhaps a split second to grasp glory and success on the playing field. Times like these are rare and often end up rewarding hard-working athletes with starting positions or promotions to a higher level of play. One of these opportunities was offered to several players on the Hillers JV lacrosse team, and they certainly stepped up to the plate.
Hopkinton's varsity lacrosse squad competed with the rival team, Ashland, last Monday on Hopkinton's turf. The game was nothing out of the ordinary with the exception of one detail: Hopkinton's coach, Justin O'Leary, pulled two players up from the JV squad to play alongside the varsity team. Two players were offered a chance to show off their skills and prove to the coach that they could play at a higher level.
Brett Roskey and Ryan Hamilton, an attack-man and a midfielder, respectively, walked onto the field ready to play. Both players had proved themselves to be competitive athletes extensively through their JV competitions but little did they know that the varsity coach had been taking note of their skills and hard work.
Ryan Hamilton, who started playing lacrosse this year, was a force on midfield. Running non-stop and fighting for every groundball, Ryan hustled and performed like a varsity athlete, putting up several points throughout the game. He received much praise from the seniors and other varsity players, who commented on his quick speed, focus in the game, and, as Captain Sam MacDonald put it, "his ability to make the opposing team look silly".
Brett Roskey left his mark on the Ashland defense on Monday as well, scoring four goals and making three assists. Brett appeared to be too much for Ashland's defense to handle at times, especially when the opposing team attempted to clear the ball.
"He just flew all over the place," senior captain Jeremy Gram stated, "He was all over the place and chasing down Ashland's players until they crossed the midfield line." Brett stripped the ball from Ashland's players approximately seven times, a remarkable and impressive statistic.
The two players contributed to an 18-1 victory of the Ashland Clockers, advancing Hopkinton into the state tournament with a record of 9-3.
Neither had time to comment on their experience due to a mandatory team meeting immediately following the conclusion of the game. However, all of the captains and players of the varsity team have confirmed that they will both be returning to play again the following week (in another match against Ashland High School). They will also be pulling up additional players from the JV squad.
It would seem that the effort and determination of these two young athletes has earned them a spot among the Varsity squad, something that rarely occurs mid-season. This is something that everyone can learn from, both on and off the playing field. Trying hard and putting effort into everything done will get someone recognition. Whether it be for a job, a starting position, or a sports team in general, working to a person's full potential will always benefit them. As Brett Roskey and Ryan Hamilton have learned, somebody will always be around to notice and reward hard work. All it takes is a little time!