Back to Back Champs
The Senior Team of Jake Kelleher, Sam Lehman, Alex Kosheff, Kyle Halloran, Jack Vaccari and Cam Finlayson ran the tables on the first handball tournament of year, which was held in November. They outlasted the strong competition of five other teams to make it into the championship game against the Counselor. The Counselor team, made of principal Evan Bishop, assistant principals Joshua Hanna and Justin Pominville, teachers Shannon Alberry, Brian Prescott, and Mark Sanborn, also started the tournament also with a 5-0 record.
The Championship game was a great matchup of the all-senior team taking on the administration team with a final score of 5-4 in favor of the seniors. It looked like the administration team was going to have a great comeback, tying the game at 4-4 with just 30 seconds to go, but the seniors rallied with a great outlet pass from Kosheff to Kelleher, who took a side shot from the corner, netting the winning point.
"I was very excited to be able to have the winning point against the Counselor team, knowing that as seniors we had a victory over the administration", said Kelleher when asked about the victory.
The next Handball Tournament was recently held this past Monday, March 14. The senior "Kelleher Team" was returning with all the same members, with the exception of Finlayson, who had to bow out due to hockey commitments. Finlayson was substituted with Nick Canal, who is also a senior. When asked, Canal added, "I'm very excited to play for the senior team and hope that I can step into their game system after getting a late start in the tournament."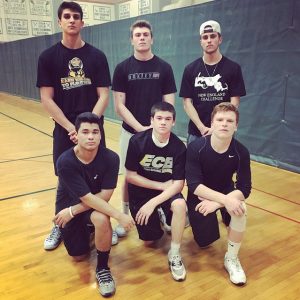 The team again rolled passed their competition with another 5-0 run to make it to the championship game against the Red Team -Juniors with Spencer Coveney, Nick Temple, Chris and Ryan Mastroianni, Will Nadeau, Tom Onsi, and Brian Gaughan.
The game got off to a quick lead by the Junior Team with a 3-0 score. Team Kelleher had to battle back from the deficit with some great shots and tied the game at 3-3. Kosheff, in net for Team Kelleher, held the junior team scoreless for the remainder of the game with the final score 5-3 for the back-to-back championship wins by the seniors.
"What a way to finish, letting in the first three goals set us back on our heels, but I knew that if I could hold the Junior Team off, my boys could rally back to knock off the juniors and capture the win", said Kosheff when asked about the victory.
The Handball Tournaments are gaining popularity now with over 20 teams participating in each tournament.