Students at Hopkinton High School Prepare for a Trip to China
Mandarin students from Hopkinton High School will be going to China for 10 days over April break. The 41 students and six teachers will be visiting iconic landmarks all over China and even staying with host families for a few days while attending high school there.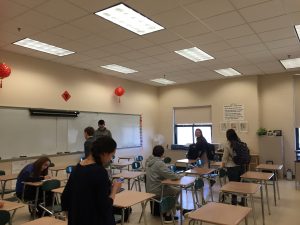 Hopkinton High School has a connection with the school in China because of a past teacher at HHS who is now an English teacher at the school in China.
"Mrs. Pan used to be the first Chinese teacher at HHS," said Mandarin teacher at Hopkinton High School Shu-Lin Mueller. "Our students will stay with the host family students for two days and attend their classes for one day."
This is a major part of the trip that the students will get to experience while there.
"My favorite part of the trip was definitely going to Pingxiang High School, " said senior Hannah McKenzie, who went on the trip last year. "It was a really cool experience because it was so different from western schools."
The students will start their trip in Beijing and visit famous landmarks such as the Great Wall of China, the Temple of Heaven, and the Forbidden City.
Later on, they will visit Pingxiang and Shanghai, where they will go to the World Financial Center and the Bund, where there are "dozens of historical buildings, lining Huangpu River" and take a cruise on the river.
This trip will help the students to "use their Chinese to communicate with local people and students,"  says Shu-Lin Mueller. It will give them a better understanding about Chinese culture and Chinese people, according to Mueller.
Senior Emily Woelflein says that she is "very excited" to go on this trip and really looking forward to "spending time with my classmates and friends and seeing China."