Belize: A Trip to Remember
Hopkinton High School Spanish teacher Lauren Polansky, French teachers Liza Lyons and Erica Wetterlow, and 20Â students traveled to Belize last February vacation, creating unforgettable memories and relationships on a very successful trip.
"I felt like the kids were so grateful and they expressed it all the time throughout the trip and then afterward," said Polansky, who coordinated the trip.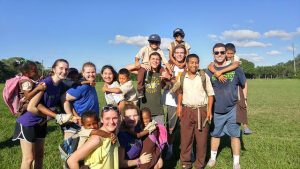 There were various activities and excursions the students experienced in Belize. Some of the highlights were cave tubing, sea-trekking in the Caribbean, ziplining, and visiting Mayan ruins. Senior Josh Martel said, "There was a lot to experience, I wish I could have stayed longer."
The students had a very valuable and emotional visit to a local school. The Belizean students prepared presentations with singing and dancing for the Hopkinton High students. "We donated a ton of school supplies. It felt really good to do that," said Polansky. Afterwards, they enjoyed playing with the students.
"I got to play soccer, a sport I love, with the younger school kids," said sophomore Sammi Hersh, "It was very fascinating to see how I could relate to them through soccer."
According to Polansky, the trip was very successful as the students bonded and they enjoyed every single activity in Belize. "I love just having the opportunity to get in a conversation with the students outside of the classroom," said Polansky.
"My favorite part of the entire experience, though, was definitely becoming closer to all the other students on the trip," said sophomore Grace Schacterle. She expressed how much she loves meeting new people and visiting new places, which sparked her decision to be a part of this trip.
The Belize trip was not only a time for recreation, but a time for learning. "I always enjoy activities where we're learning stuff and having fun at the same time," said Polansky.
On the trip, the students learned about Belize itself as well as jungle survival skills. It also gave them a greater perspective on the world around them.
"Every country is unique," said Schacterle. "They all have their own backstories, and that is what makes each and every one of them incredible."
The students observed that despite the poverty and financial issues in Belize, the natives were positive and kind individuals. Both Polansky and the students noted the highly diverse community and atmosphere in Belize. A total of eight different languages are spoken in Belize, English and Spanish being the most common.
Polansky explained that she chose Belize because "there are so many different types of activities" that "would cater to so many different interests." She brought students who had many different reasons for joining the trip.
"I really like traveling because it broadens your horizons," said Martel.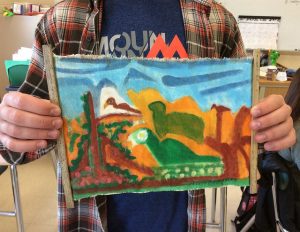 "I thought it would be both educationally and personally valuable to experience something like this before I left high school," added senior Joe Lanen.
The trip to Belize was split up into three major parts. They started in Belize City, the capital of Belize, then they traveled farther inland to San Ignacio. Afterwards, they spent some time on Ambergris Caye, a small little island of Belize.
The Hopkinton High School students were joined by a group students from Wareham, Mass. and Maine for the duration of the trip.
Following this successful Belize trip, Polansky announced her trip to Cuba for February vacation in 2017. She described it as "a once in a lifetime opportunity."
"We, as students, are really lucky. These trips that the school puts on are really amazing and eye-opening," said Schacterle, "I hope that everyone takes the opportunity to go on one of them because it is a 100 percent worth it!"