Election 2016 Interest Heating Up at HHS
As the presidential candidates prepare for the upcoming primaries and caucuses, Hopkinton High School seniors are preparing to vote in their first presidential election.
"I think voting is important, even for first time voters." said Trevor Perkins, senior.
Students throughout Hopkinton High School have decided to take part in this year's election for different reasons.
For many, growing up through multiple elections has prompted a special interest in our country's most important election.
"I have been into politics since Middle School so it is interesting that I get somewhat of a say" said Erica Stefano, senior.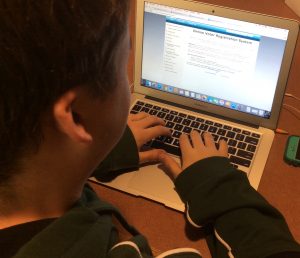 Other students have decided to vote because they now have a knowledge of the election. Â 
"I'm going to vote because I am taking AP Government and Politics this year," said Danica Chandler, senior. "I have become more pragmatic as a voter so I would like to input my opinion because I actually know what I will be talking about and voting on."
The scope of this election has also attracted many students to vote in the 2016 election.
"This has been an election that Americans have never really seen before with the rise of populism and outsiders like Donald Trump and Bernie Sanders," said Perkins.
What has also made the scope of this election different is the issues that are being focused on the most.
"It was a lot different because in 2004, the Iraq war was brand new," said Shannon Allberry, history teacher, about her first time voting.  "It was more about that war and foreign policy than racism and the economy."
The Massachusetts presidential primary is on March 1, and the last day to register for it is Feb. 10. Â The General Election is on Nov. 8, and the last day to register is Oct. 20. Â