In a small room across from the Hopkinton High School office, sits the school nurse, Sarah Patterson. You can always count on seeing her smiling and comforting face through the small window in the door.
Ms. Patterson performs many tasks throughout the day to help the students of Hopkinton High school.
"My daily tasks are giving prescribed medications,  monitoring attendance, checking in with students who have ongoing health concerns,8 and managing health issues related to illness or injuries that happen during the school day" says Patterson.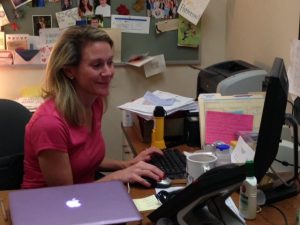 As a nurse, she is responsible for the wellbeing of students while they're in school.
"She is the most important person in the school to prevent harm to students" says Bryan King, a teacher at HHS.
What makes Ms. Patterson so special is that she not only helps students with medical problems, but she is also a friend to many students.
"The nurse is my favorite person ever" says senior Brigid Marquedant. "She is so caring and helpful and I wouldn't have gotten through highschool without her!!"
Her positive attitude is valued as well. Many students feel better after talking to her, even if it was a quick conversation.
Senior Anna Bullock says, "Ms. Patterson doesn't only help us by making us feel better, but she brightens our day by making conversation and making an effort to remember all of our names."
Ms. Patterson became a school nurse because she has experience in pediatrics. Additionally, she wanted a schedule where she could care for students and have time for her family.
"What I like most about my job is getting to know students and their families" says Patterson. "Highschool of is a time of major change emotionally, physically, and psychologically.  I enjoy being able to support families during this critical time in their lives."
The nurse is someone very special to our school and has positively influenced the Hopkinton High school experience for many students, whether it be providing a band-aid or being there for students as a beloved friend.