Varsity Field Hockey Team Celebrates Senior Night
On October 22, the varsity field hockey team celebrated its seven seniors at the last home game of the season.
Posters, streamers, and fans filled the stands as Hopkinton went up against Medfield and tied 0-0 to earn the Hillers a place in the Massachusetts State tournament.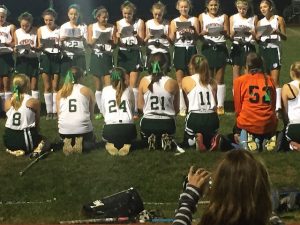 The seniors of the team include captain Katie Litchfield, Emma Zack, Julia Altman, Rebecca Collins, Bryanna Sheard, Chloe DiMare, and Jacqueline Barnes.
"It was really nice to have the support from the community" said Litchfield. "It was bittersweet to be the last game but it has been a great season and I am looking forward to tournament."
The underclassmen continued the yearly ritual of singing the seniors a song before the game. 
"It is always so much fun to come up with the song and sing it to the seniors," said sophomore Sophie Schneider. "It is our way of saying thank you to them for a great season."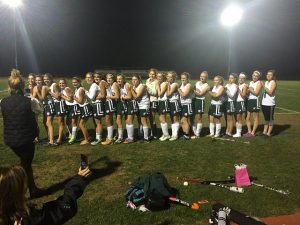 The team also honored the late Abbie Benford, a member of the varsity field hockey team who would have been a senior this year.
The Hillers play their first tournament game next week.