Hillers earn much-needed Senior Night Victory against Blackhawks
Boys' Varsity Soccer pulled off an 8-0 win against Bellingham last Friday in their Senior Night game, earning them two more points toward a spot in the MIAA tournament.
The Hillers scored six goals in the first half, giving them a huge lead. Juniors Ben Fargiano and Ryan Mastroianni each scored two goals. The other two goals in the first half were scored by seniors Ryan DiNicola and Conor Murphy.
Two more goals were scored by senior Zach Doss and junior Kenny Rhodes in the second half.
Although this was an expected win–the Hillers beat the Blackhawks 7-0 in their last match–the senior players were particularly excited for senior night, a time where the boys are honored along with their parents for their hard work and contributions to the team.

"Senior night is exciting," said Doss. "My four years of hard work is paying off and being recognized alongside my friends."
Even senior starting goalie Tom Onsi took the field for the second half because of the huge lead, giving backup goalie Chris Mastroianni a chance in the net.
The Hillers were thrilled with their win, giving them a record of 6-7-2. "It feels great to win our senior night game," said DiNicola. "Hopefully it will be a part of a great finish to my senior season."
Many fans enjoyed the senior night celebration and were happy for the Hillers and their win.
"It was really great to see my friends being honored in the game," said senior spectator Chris Todd. "They looked like they were having a blast out there making the most of the time they have left together as a team. I am excited that they still have a shot of making it into tournament."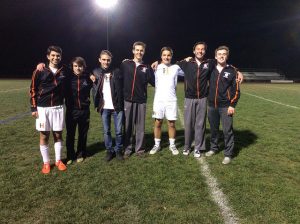 Coach Garrett Sawyer was especially proud of the turnout of this game. "It's exciting to have a good crowd and the parents here to honor all they have contributed to the program the last few years," he said.
Many of the players have been playing together for years before they made the school soccer team. "Time flies. I did not expect it to end this quickly," said Murphy. "It's great finishing the season with my boys. The end is bittersweet."
The Hillers beat Millis 5-0 this past Tuesday, and are scheduled to play Thursday in Medway at 7 p.m. The boys need to win this game in order to stay in the running for a spot in the MIAA tournament.