Hopkinton Hosts 3rd Annual Live4Evan 5k Run/Walk
On Saturday September 26, nearly 400Â runners and walkers took to the streets of Hopkinton to honor Evan Girardi in the third annual Live4Evan 5k.
Girardi was born with Correct-L Transposition of the Great Arteries, a rare congenital heart defect. After enduring open heart surgery as a senior in high school, he faced many struggles but thoroughly enjoyed his time at Loyola University Maryland. After he suddenly passed away due to a sudden heart arrhythmia, his family and friends created the Live4Evan foundation to honor Evan and help other families cope with cardiac disease.
This 5k has become a widely anticipated community event. Starting at EMC Park, where Girardi used to play baseball as a young boy, the route winds through town, passing Girardi's favorite restaurant, Bill's Pizza, and ending on the loop road of Hopkinton High School. Participants can then walk to the field behind the middle school for snacks, refreshments, and activities.
Community members and runners all come to support this great cause. "It's so awesome to see the community come together for this event. The sense of pride that Evan had for Hopkinton was immense, and this event really shows why," said Elle Girardi, Evan's youngest sister.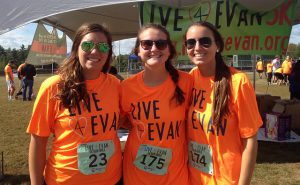 "Evan impacted so many people, and it's really cool to see that he's still impacting people even though he's not still with us physically," added Maddie Girardi, another of Evan's sisters.
Loyola University Maryland, the college that Evan attended, is one of the sponsors of the race. "I love that Loyola still honors Evan by sponsoring this race. Loyola was so important to him, and by sponsoring the race, Loyola shows that Evan was important to them," said Anna Valle, one of Evan's friends from college.
Thanks to the help of dedicated volunteers and a supportive community, the 3rd Annual Live4Evan 5k was a huge success.