From Obesity to Allergies: The New Wellness Policy
By Jessi Hersh
When the wellness initiative that changed school programs around the nation was first introduced to combat obesity two years ago at HHS, students had mixed reactions toward the removal of advisory foods and changing of school lunches, most of them negative.
"I don't think [the administration] made the right decision about the advisory food policy. I don't believe that not sharing food is keeping my nutrition up. Instead of having healthier snacks, we don't get to share anything at all," said senior Maria Soto-Santa.
"I guess I can understand why they'd want to eliminate sweets in school, but I don't think obesity is an issue in this town. Everyone here is relatively fit, and having a brownie once a week isn't going to change that," said sophomore Elizabeth MacDonald.
The policy has since been redirected. Wellness policy advisor Bruce Elliot explained, "In terms of the original purpose behind the wellness policy act, it was targeted towards obesity. However, now that's been refocused as more of an allergen concern as this policy gets rolled out to schools."
Elliot also explained that this policy comes from state and federal policies, not just the school.
"When the Obamas' came, they put in today's programs, with specific mandates and laws talking about what schools could have and couldn't. The Massachusetts laws came into place and they had to adopt the same mandates. They had to become really specific about what kinds of foods were going to be in place in terms of nutritional values."
This contradicted the beliefs of many students. MacDonald said, "I had always thought that the policy was made just by the school. I never realized that it was coming from somewhere else."
As stated in the policy, the purpose is to "ensure that food offered within a school day by the school district is safe and nutritious, and fulfills the requirements of the Child Nutrition and Women, Infants, and Children (WIC) Reauthorization Act of 2004, and the Healthy Hunger-Free Kids Act of 2010."
Elliot explained that it is actually up to the food service provider to make sure that the food follows regulations. "Whitson's is our food service provider. All the foods have to meet a certain guidelines."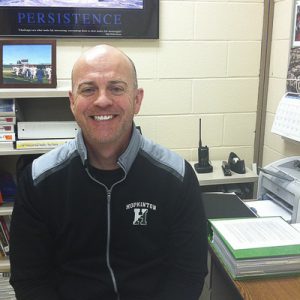 The advisory food policy was created to help meet the state requirements for allergens. "The risk for allergies is always there. I don't know if taking our food away from our advisory is making a difference, but it is helping to remind us that allergies are a common problem," said Soto-Santa.
The school suffered the tragic loss of a student, Abbie Benford, last year, resulting in the creation of the Keep Smilin' Foundation in her honor. The website explains that "Abbie Benford passed away from an anaphylactic reaction on December 18th, 2013". This made the issue of allergies more personal to the student body than it had been before.
MacDonald added, "I feel like especially with the Keep Smilin' message and remembering Abbie, it's a good idea to be more conscious of allergies within the school, and the state. It stinks that we can't bring in brownies to share with our advisories anymore, but I wouldn't want someone with bad allergies to be fearful of cross-contamination."
So while the wellness policy initially brought up dissent amongst the students, the state and federal guidelines have helped to amplify the risks of allergies throughout the school.