By Sean Kelly
Justin Pominville, Hopkinton High School's newest administrative member, has transitioned seamlessly into the school system, working well with his coworkers and making a positive impact. However, despite his daily presence around the school, students still wonder about his interests and opinions.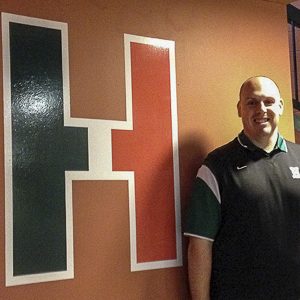 Pominville lives in Uxbridge Massachusetts, where he served as assistant principal for 13 years. He and his wife, Stacy, have been together for 19 years. "We started going out in high school, when she was a freshman and I was a junior," said Pominville. They have a 4 1/2 year old daughter.
He has many interests and hobbies, and gave his opinion on a variety of subjects.
On music: "I am a tremendous fan of music. I like all different kinds of music and find that it is a great way to connect with people. No matter where you are, it is a great way to understand and become closer to different people, even if you have nothing else in common."
On movies/television: "I have always loved movies and it has been a really great way to connect with people, just like music. I also enjoy watching Netflix and find that it is a great way to keep up with all of my favorite TV shows."
On reading: "Outside of school I am an avid reader. I usually fluctuate between books, but my favorite genre is non-fiction. Lately I've been reading educational texts, like tips and strategies to help me stay fresh with the profession."
On social media: "I love reading about movies and music, and I have found that blogs and twitter have lots of great information about leadership, which is one of my hobbies."
On running: "Running, for me, is a great way to de-stress. I am outside, alone with my thoughts, and able to relax after a long day." He aspires to run the Boston Marathon in the near future. "I do a lot of long-distance running, and have been pushing my boundaries in terms of what I can and can't do."
On sports: "I was a varsity tennis and football coach, and I also coached spring track for a year. My tennis team won our division for division II, and I was a football coach for 13 years."
On food: "I gotta tell you that my favorite food is still pizza, but being a vegetarian has opened up so many doors for me. My wife has done a fantastic job of making different foods and expanding our family's pallet."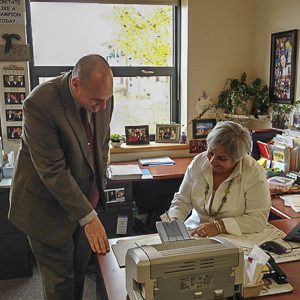 Within the school, Pominville is enjoying his new experience. "This is the first job I have ever had where I don't live where I work," said Pominville. "My work ethic and honesty have been very helpful in providing a smooth and fun transition into the Hopkinton school system. In my short time here, I have connected incredibly well with students and faculty, while also being the best leader I can be.
"I would describe Mr. Pominville as one of the hardest working people I have ever worked with," said Principal Evan Bishop. "He has transitioned into this school exceptionally well, almost to the point where I feel I have been working with him for years. During our interview, he showed me, right then and there, that he is able to make good connections with students, has a good perspective, and always puts the student's interests first."