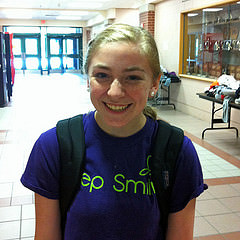 By Leticia Namanda
Q: What motivated you to run this year? Or, in other words, what inspired you to want to be elected in your position?
A: I ran, largely, because I've been Vice President the past two years and I really enjoyed it the role. I also really enjoy high school & my class, so I was thrilled to have the honor of making my class a forever priority. I can't wait to be planning reunions 50 years out.
Q: What are your top three goals for the class?
A: Hmm…I suppose a one goal would be to have an even better talent show, probably another one would be to figure out the current parking situation like we're doing now, and for a third one, to make sure that everything senior week goes as planned!
Q: What is the biggest problem in our school in your perspective, and how would you plan to solve it?
A: This is a tough question. We have a really excellent administration team that covers nearly everything. The biggest problem that I can possibly think of is students losing crucial social skills & effective ways of communicating problems, because of our media addiction. Since you're asking about this school and that's more of a social problem, I would say maybe a class could help to address it.
Q: How do you plan to set an example for future class officers, or underclassman?
A: I plan on setting an example by treating everyone like a human being, with the respect and dignity that each human deserves. I plan on continuing to work hard and be a loyal Vice President!
Q: Do you feel that one negative aspect of the High school experience is either not focused on enough, or overly observed?
A: No, not at all. I think Hopkinton High School is a really amazing school, and we are so so so lucky to be going to a school where people actually care about education.
Q: What kind of leadership skills do you think you will gain when you are a part of student government next year?
A: I think I will become a better problem solver & become better at working with people.