Hopkinton's Relay For Life Changes for the Better
By Kora Sileo
Hopkinton's Relay for Life Committee, headed by senior Cassandra Boyce, junior Adam Graubart, junior Mary Marquedant, and American Cancer Society representative Monica Nybo, has recently made many changes to this year's Relay For Life event on June 13, 2014 in hopes of attracting more participants and donors.
In the past, the committee has been led by two Hopkinton High School students, however a third committee chair was added this year in order to more effectively manage the responsibilities of the chairs.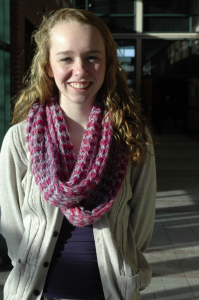 "There is always more to do, so we thought having a third chair would be best so that responsibilities could be split up better and we have an extra opinion and voice in all matters," said Boyce, who has just begun her second year as a committee chair.
After applying for the event chair position, Graubart and Marquedant were selected by Boyce, former co-chair Connor Zanini, and former American Cancer Society representative Gillian Baudreau.
Baudreau was recently reassigned to a different Relay For Life community, therefore causing Monica Nybo to become the committee's new ACS representative.
"[Nybo] provides a lot of great ideas in regards to making the relay event itself exciting and active," said first-year committee chair Marquedant, "she asks our opinion on every aspect of relay, so it is [very] kids based rather than only adults decisions."
Because this year's Relay For Life event occurs after Hopkinton High School's graduation, chaperone requirements are different than they have been in past years.
"If you are over the age of 18 and graduated high school, you do not need a chaperone. If you are 18 and still attending high school then you do need a chaperone," stated Nybo.
All participants under the age of 18, regardless of whether or not they are attending high school at the time of the event, are still required to have chaperones.
Because most of the event's participants are typically teenagers, the event leaders this year are looking to greatly increase adult involvement.
"I would encourage the adults of this town to not simply see the event as a kids' affair. The entertainment and greater meaning of the event apply to adults as much as teens," added Graubart.
The committee chairs are also emphasizing midnight teams for this year's event. Midnight teams are an option for participants who want to raise money for the American Cancer Society, but who may not want to spend the entire night at the event.
"[Midnight teams] are good for teams with younger kids that want to be a part of the event, but their parents don't want them staying up all night. [They] are also for adult teams that wish to sleep in the comfort of their own beds," continued Boyce.
The American Cancer Society has recently removed a long-standing restriction on the number of participants allowed per team at the Relay For Life event. In past years, there has been a limit of 15 participants allowed per team, but this year there is no cap on the number of members permitted.
To emphasize this new policy, the team with the most participants registered online on March 10th will receive a complementary pizza party during the night on June 13th.
The committee is offering several other incentives to maximize early registration and early fundraising for the event.
Every participant who registers for the event online before March 10th will receive a $5 decrease in the cost of registration, dropping the price from $15 to $10.
Additionally, the team with the most money raised and inputted online by March 10th will also receive a pizza party during the night of the June Relay For Life event.
All registration for the event occurs online.
"Go to the Relay For Life of Hopkinton's Website, and click on "Sign Up". More information will be provided at our Kick Off Meeting on February 10th at Hopkinton High School," explained Graubart.
Kick-Off is the first meeting that includes the entire Relay For Life community (i.e. participants, team captains, etc.). With a different theme each year, all of he 2014 kickoff stations and activities are related to the upcoming Winter Olympics.
"[Kick off] is a meeting that we have to publicize the event. We invite everyone to come that wishes to participate in or learn more about Relay For Life. We give out event information, ideas for fundraising, and play games to learn more about what people can do to raise awareness," said Boyce.
Aside from participating in the event, members of the community can donate to an entire team or a specific member of a team that is participating in the event.
"[Donors] can either send cash or a check to the individual on the team that they would like to donate for, or they can go on to the relayforlife.org website and follow the steps to donating to a team," stated Marquedant.
Hopkinton's Relay For Life committee meets once a month in the Hopkinton High School library.
"Each person on the committee has such a great passion for the cause and it is great to see them all pushing to think outside the box to make this year's relay bigger and better than ever," continued Nybo.
The committee is primarily composed of Hopkinton High School students, ranging from ninth graders to twelfth graders. Adult committee participation has decreased since the town's first relay event in 2007, and now only two adult members consistently attend meetings. The committee is looking to increase adult involvement this year and in upcoming years.
"I enjoy being an adult committee member because I like to work with the students and help them brainstorm and to help their ideas come to life.We need more adults though," said HHS math teacher Jennifer Fairbanks, who has been involved in Hopkinton's Relay For Life since it began seven years ago.