Girl's Basketball Dribbles Away with a 48 to 32 win Against Medway
By Cassandra Boyce
The Hopkinton Girl's Varsity Basketball team defeated Medway High School's varsity team during their home game on Friday, January 10, with a final score of 48 to 32.
During the 2012-2013 season, Hopkinton split their two games with Medway, winning one game and losing the other.
"Medway lost a couple of their seniors, who went Division I, and they were really the core of the team. Without them, I definitely think we can win," said Junior guard Kaitlyn West before the game.
Halfway through the game, West added, "They come out really strong the first half, and they're really aggressive."
Medway was ahead with a score of 18 to 17 at halftime.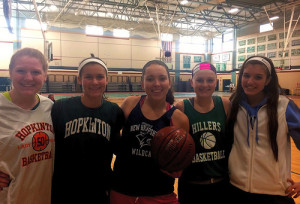 Coach Rita Atkinson commented on Medway's aggressiveness and said that Hopkinton "had a strong performance from the free throw line" during a high fouling game.
During the third quarter, Hopkinton pulled ahead to end the quarter with a lead of 30 to 26.
Coach Atkinson later stated, "We played solid defense against Medway which [led to] offense and we did a better job in the second half against their full court man to man. The team did a very good job recognizing the different looks Medway played on defense switching from zone to man."
After two tough losses to Bellingham and Millis earlier that week, the team was ready for a win. In the final quarter, Hopkinton widened the gap by 16 points to finish the game with a win of 48 to 32.
"We have had lots of practices and I think now we are just putting it all together and playing well with each other… We execute best when we work together as a team and make everyone play together so no one is trying to do it all," said senior captain Autumn Kramer.
The team's overall season record is 3 wins and 2 losses thus far. Their next game is Tuesday, January 14, versus Westwood at 6:30 PM in the Hopkinton High School Athletic Center.
"My hope is that the rest of the season goes well. We will learn from our losses and do what we can to win the rest. If not win, work hard and do our best!" continued Kramer.
The team is hoping for another win when they play Medway for the second time this season on February 7.