By Cassandra Boyce
HOPKINTON-Â Three-season student athlete Holly Adams is the third Hopkinton volleyball athlete in history to be chosen by statewide coaches for the Division II All State Team.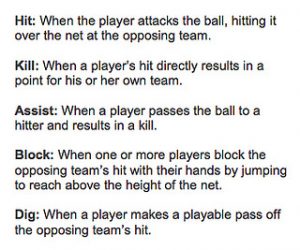 The Massachusetts Girls Volleyball Coaches Association (MGVCA) is a statewide organization for high school coaches. According to the MGVCA website, "The vote for the All State teams occurs at the MGVCA annual meeting just after the conclusion of the regular fall volleyball season."
"When I first got the call from my coach that I made the Division II All State team, I was very shocked and excited. I was very proud that all my hard work had paid off," said outside hitter and 11th grade student Holly Adams.
According to Hopkinton Varsity Volleyball Coach Margie Grabmeier, about twenty girls were nominated league-wide and fifteen were chosen.
"In order to be nominated, the player's team must have qualified for State Tournament. In order to be considered, MaxPreps statistics are required and coaches must be members of the MGVCA… Coaches may nominate any player they see fit… I nominated Holly," stated Grabmeier.
Coaches are given statistic sheets ranking leaders in hits, kills, assists, blocks, and digs. MaxPreps, an online statistics website, shows Holly as the Tri-Valley leader in hits and kills; and fifth in the same areas for Division II in Massachusetts, with a hitting percentage of .295 and a total of and 298 kills.
Parents Jim and Jaynne Adams consider themselves Holly's biggest fans. When asked about Holly's selection for the All-State Team, Jaynne Adams said, "We were thrilled. It was a big surprise and could not be more proud of her… It's always fun to be recognized when you know you've put 100% into your playing."
"As her dad, I wasn't surprised because I think she earned it, but again that is her dad talking," continued Jim Adams.
Along with being a leader in statistics, Holly is a natural leader on the court. She has been nominated by her teammates as one of the three senior captains for next season.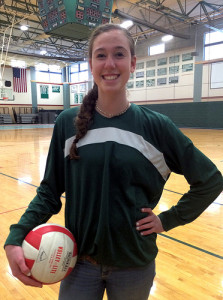 "As a Captain next year, I expect that Holly will continue to play an important role in motivating the team throughout the season, and I hope that she gains a new insight and perspective on teamwork with her new leadership role," added Grabmeier.
Holly's success in High School volleyball has lead to her desire to continue playing in college.
"I have been playing volleyball for five years… I'm not sure about exact schools I want to go to, but I am sure that I want to go Division I or II. I also want to be close to home, that way my family can come watch me play," included Holly.
"She is very excited about the opportunity to play in college… My biggest hope is that she will always enjoy it. She is so passionate about it and genuinely loves to play the game and keep improving on her skills," said Jaynne.