Lock-In-Place Procedure Allows for Search Dogs to Enter HHS
By Drew Johnson and Kara Bogasky
Between 9:45 and 10:20 am on December 13, a lock-in-place procedure was put into place by administrators at Hopkinton High School, and eight search dogs arrived at the school in police cruisers to search for banned substances in classrooms and cars.
According to School Resource Officer Philip Powers, "A lock-in-place is when we have all the students stay in their rooms, not out in the hallways, and the doors are locked. The difference between that and a lock down is the students are able to stay at their desks and do their school work."
The dogs, which specialize in sniffing for narcotics, were taken into classrooms and around the senior parking lot to search for banned substances, such as tobacco and marijuana, while students remained in their locations due to the lock-in-place procedure.
"Even though we had 8 dogs, these dogs get exhausted. Their senses get exhausted. So they can only do so much before they have to be taken out of service or have to rest, before they can start again," said Officer Powers. But the search still turned up results, "The dogs did hit on some backpacks, and on a car."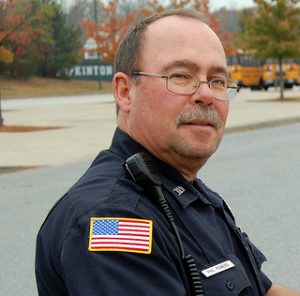 If a substance was found among a student's backpack, car, or personal items, the student was taken to the main office.
"It's sad that we have to do it, but I hear a lot of complaints from people that there [are] an awful lot of drugs in this school. This either contradicts or tells me that no there [aren't] a lot of drugs in this school. I want this school to be a safe place," stated Officer Powers, "my idea of a perfect search is coming up with nothing."
Although the search for banned substances was not ideal for students and staff at the high school, most agreed that it was necessary. In an email to parents, Principal Bishop said the search was, "part of our on-going efforts to keep Hopkinton High School safe and drug-free."
The search dogs came from various locations throughout Massachusetts, including Danvers, Acton, Ipswich, and the Middlesex Sherriff's Office in Medford.
Principal Evan Bishop helped oversee the search and stated, "We contacted the sheriff's department in September. But it takes a while to get it scheduled."
Bishop's goal was to make the search comprehensive, but non-intrusive.
"At no time were students placed in an unsafe situation and at no point did the dogs interact with any students during the search," continued Principal Bishop.
Senior Michael Mace, who was in the auditorium during the search, commented saying, "I walked out of the room, and there were twelve police officers."
Austin Odell, a student at HHS, said he found out that there were dogs searching classrooms and cars just following the start of the lock-in-place procedure. "[I found out] like two minutes after the announcement was made."