HHS Staff Speaks About Saudi Arabian Driving Ban for Women
By Gita Dandekar
The Saudi Arabian driving ban for women has captured the attention of many around the world. This Middle-eastern country, in which women receive fewer rights than men, is a great contrast to Hopkinton MA, where women and men are more or less equal. Women living in Hopkinton acknowledge this vast contrast and are grateful to live the lives they do.
"I can't see something like this happening in Hopkinton," said Hopkinton High School (HHS) staff member Cindy Grilli, "Nothing would get done, a lot of people wouldn't be able to get to work, and it would cause a lot of chaos."
Saudi Arabia is currently the only country that has this driving ban for women.
"I feel like they publicly frown upon [women driving] and make the women feel inferior," included HHS librarian, Charleen Belcher, "Women are treated as second class citizens over there."
Although the driving ban isn't written law, a locally issued license is required for driving. These licenses are not given to women.
"The laws restricting women are very strict in Saudi Arabia," noted HHS history teacher, Stephanie Potito. "I would not stand for that. I would try to rebel."
Women were previously not allowed to vote in Saudi Arabia, although they are going to be able to vote as well as run in the upcoming 2015 election. In the United States, women gained the right to vote in 1920 with the passage of the Nineteenth Amendment.
"In the current day United States, while women do have the same rights as men, there is still some inequality. A woman will make 70 cents an hour while a man makes one dollar," said Potito.
"I've seen woman's rights come a long way although I'm not sure that salary is where it should be," agees Grilli. "In general I have seen a difference in a positive way," she stated.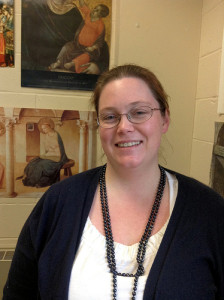 Women in the United States had been trying to get the right to vote since the Seneca Falls convention in 1848 where they organized and wrote a Declaration of Sentiments. Between the convention and the passage of the Nineteenth Amendment, they showed their dissatisfaction through acts of civil disobedience. Â Women in modern day Saudi Arabia are publicly defying the driving ban in order to make a change.
"Civil disobedience is the way to go," said HHS history teacher Sara Williams. "[Saudi Arabian men] believe women have a lower place in society, and it's been institutionalized, which is what keeps it going. They are wrong. Women deserve the same rights," she said.
"I think they will eventually change the driving ban," Williams continued, "The women are starting to get more organized and more industrial. It will take awhile but it's civil disobedience."
"Change is hard because you would have to change a mindset," agreed Belcher, "But if you offer education it can be possible."