Star Athlete Nick Burns Leaves the Nest of HHS to Become a Johns Hopkins Blue Jay!
By Kora Sileo
Hopkinton High School senior baseball captain Nick Burns has committed to Johns Hopkins University to play baseball as a pitcher for the school's division three team next year.
According to Burns, "I chose [Johns Hopkins] because of the academics and they are one of the top teams in D3."
Because Johns Hopkins is a Division III team, Burns cannot receive a monetary athletics scholarship.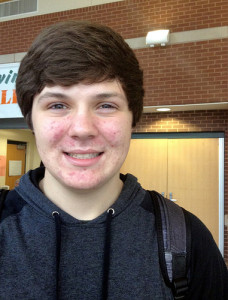 Burns throws a fastball, a change-up, and a curve ball. His fastball has been clocked at a high of 85 mph, but according to Burns, "my favorite pitch is a curve ball." As a lefty, burns has a great advantage over many other high school pitchers.
According to USA Today, "Left-handlers are a limited commodity in baseball player's market, and teams devote great amounts of time, energy and stress into making sure they don't miss their share of them."
Burns pitched five of Hopkinton High School's varsity baseball team's 21 total games in the 2013 season, yielding an overall season record of 3-2. His era was 2.19, and in total, he struck out 44 batters in 44 innings. Burns' career high school record is 9-3.
Burns' success has been recognized league-wide. "I have received the Tri-Valley league first team all-star award twice and the Tri-Valley league pitcher of the year award once," said Burns.
Among Burns' biggest accomplishments as a high school pitcher was in the team's first tournament game during Burns' sophomore year (2011), in which he was the starting pitcher.
"For me that stands out because to earn the starting pitcher spot as a sophomore on a team with thirteen seniors is just unbelievable," said Jay Golden, the Varsity Baseball Coach at Hopkinton High School, and Burns' coach since 2011.
When describing the offer made by Varsity Coach at Johns Hopkins University Bob Babb, "My [main] role will be [as] a pitcher but I will have the chance to hit and play other positions."
Burns has not only proven to be a talented pitcher, but he is also a successful first baseman.
"One thing that stands out about Nick is that he has been named an all-league player in two different positions, which is very rare," said Coach Golden.
In addition to his athletic accomplishments, Burns is a contentious student, and "he's a great kid," stressed Golden.
Mary Ann Brayer, who had Burns in one of her Honors American Literature courses during his junior year described Burns as being a student who was "quietly attentive — a deep thinker — and always put forth his best effort."
Burns plans to major in computer science during his time at Johns Hopkins University.