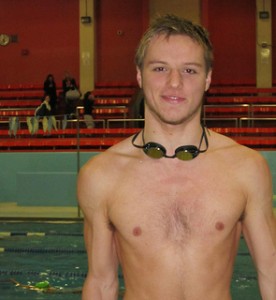 By Katie O'Loughlin
As Spencer Franklin took the last stroke in the 200 free, his hand reached the wall just milliseconds before his opponent's, causing his team to erupt with cheers. Swimming since age seven, Franklin has had years of experience competing. The 2012 – 2013 swim season marked his first year as a captain as well as continuing his legacy as a major competitor for the Hopkinton High School swim team.
Going into his junior year of high school, Franklin was chosen to be a captain due to his leadership qualities.
"He has a good knowledge of competitive swimming and a 'low key' nature about him that many of the students find calming," explained varsity swim coach, Bryan King. "It was clear they considered him to be an emerging leader."
Being a captain of the swim team, Franklin understands the importance of leading the team both inside and outside of the pool.
"I help to manage the team, get all of the other kids ready, and lead them in the right direction so they are prepared for the swim meets," Franklin said.
Team member Catherine Cote acknowledged that, "He has a real enthusiasm for the sport. He is dedicated and hardworking, and serious when he needs to be, but is also a fun guy who can get the team pumped up before a big meet."
Despite being a junior, the other members of the swim team agree that he has been doing a good job as a captain.
"He has a really good balance of being able to tell the team what to do and also being their friend and being supportive," said co-captain Molly Abate.
"One thing that always sets the Hillers apart from other teams is our character and sportsmanship, and thanks to the captains, this value is passed down year to year. When he's cheering for swimmers who aren't the fastest in the pool or when he's powering through tough sets at practice, he is setting a great example," added Cote.
With personal records that include 2:00:05 in the 200 free and 00:23:05 in the 50 free, Franklin has proven himself to be a vital member of the team in terms of competition as well.
"Spencer has been doing all events, depending upon the meet. His versatility is probably what makes him so crucial to our success this year," remarked Coach King.
"Since we lost a lot of good boy swimmers last year he's really stepped up and done a great job doing a bunch of events," said Abate.
Franklin also belongs to the Adirondack Aquatics Club, which he described as "a team that consists of elite swimmers that practice every day for many hours a week."
The Adirondack Aquatics Club is sanctioned by USA Swimming and takes place year round. Its members compete in various meets throughout New England in hopes of qualifying for the states or nationals.
With an already positive start to the swim season, Franklin stated, "My goals are to make state cuts in individual events because I am very close this year…I'm always prepared because I'm always swimming. I never have an off season with club swim so I have been ready for this all year long."
Franklin has assisted the varsity swim team in maintaining an undefeated TVL season, placing them as number one in their league. While the HHS swim season draws closer to an end, he plans to keep working hard and finish off the season with a win at the TVLs.