The Man That's Everywhere at Once: Robert Falcione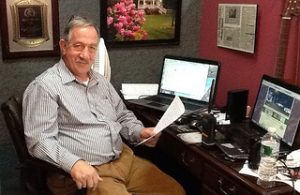 By Blair Guild
He's at every event in Hopkinton, he finds every police scene, and always manages to discover wildlife at just the right moment. Robert Falcione, the editor and creator of Hopnews, shared what his experience with Hopnews has been like.
Falcione's interest in writing and photography started from a very young age.
"The first camera I ever had was similar to a brownie camera. My father had bought me a camera when I was 11. So my practice of photography started at a young age," Falcione said. "I'd always loved photography, even as a kid. I was always encouraged to write and I enjoy language."
However, Falcione did not initially begin his career with journalism or photography.
"I took classes in journalism, English composition, and computers at the college level, but following high school I went into the trades. But this type of interest [in photography and journalism] came about when I got sick of the trades," said Falcione.
Falcione started his career as a stringer, meaning he was paid by individual productions of news pieces. He contributed photography to The Crier, some humorous writing for the Metrowest Daily News, and other pieces for the Milford Daily News. In 2003, Falcione had a column in every issue of the biweekly publishing of the Hopkinton Independent in addition to some photography contributions.
Due to his initial experience writing a column for the Hopkinton Independent and starting using photojournalism to cover local news, Falcione began Hopnews.
"In October of 2003, I started Hopnews by taking photographs of the Polyarts Festival and developed an art page [featuring] several Hopkinton artists. I was creating a venue for Hopkinton artists, and then my main goal was to share my photography," Falcione said.
From then on, Falcione developed Hopnews into what we know it as today. Hopnews has grown into a place where the community may discover the local news quickly.
Falcione explained what a typical day at Hopnews is like.
"First we open our development tool, which is Microsoft Web Expression 4. Next, I check the conversations area of Hopnews for any new comments and I make new posts as well. Then I check photos that I received the night before and choose a couple that are nice to post on the main part of the website," Falcione explained. "We have a [police] scanner and people will call and give us tips. The news all seems to be melding into text, images, and video."
Hopnews did not get to where it is today just through Falcione's efforts alone. Eric Monteville, the police reporter for Hopnews, has been a great help. His job is to convert the columns of the police reports into prose so that it is easy to read. Additionally, there is a lot of community input that keeps Hopnews running.
"We have a lot of people contributing from different departments and organizations to get their message out. To be able for me to leave my studio and go out and capture the news as it happens is what has built my body of work. So I'm grateful to be able to have done that and to continue doing that," said Falcione.
Hopnews has a way of getting news out to the community before many other sources. Falcione is proud of the prompt nature of his reporting.
"We have started this new way of doing things, perhaps, before everybody else has," Falcione said. "One of the highlights of this job is that we are ahead of the curve. And because we're online, we have the news out before everybody. We have the story first," said Falcione.
Hopnews has had an outstanding impact on the Hopkinton community and the way it receives its news. Even HHS students like senior Lexie Papadellis visit the website regularly.
"I love Hopnews. I think it's a great website to learn about what's happening in Hopkinton. It relates to high schoolers because it has sports pictures, what's going on in the town…. It's a way that people can be up to date with what's going on in Hopkinton and I enjoy that," said Papadellis.
Senior Cassie Bullock concurred, "I like all the pictures on Hopnews. I like how they show events that may have not been as well known as they should be without the photos. They're always interesting."
In the future, Falcione hopes to continue his work so that he may bring joy to the community.
"To continue to do a good job everyday, to give people something to read, or some beautiful photos to look at, or some information to share is our goal," said Falcione.
He concluded, "It's what we do here that generates the revenue that allows us to do it yet again another day, so we have to do things right."