Interim Principal Position Filled By Familiar HHS Face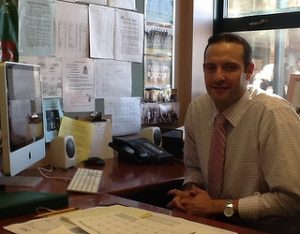 By Karissa Collins
On Thursday, November 8th, an email went out to parents from interim superintendent Dr. Steven Hiersche announcing that current assistant principal Evan Bishop will be taking the role of interim principal following Alyson Geary's departure, effective January 1st, 2013.
Current principal Geary announced her resignation in late October after accepting a new job working as the Associate Director for the Commission on Public Secondary Schools in the New England Association of Schools and Colleges. The resignation becomes effective December 31st, 2012.
Bishop is very excited for this new position within the school.
"I'm looking forward to a lot of the new challenges of the position, but most importantly, I'm looking forward to helping our school continue to preform at a high level and be regarded as one of the best high schools in the state. I'm extremely fortunate to be stepping into an interim position surrounded by such hard working students and dedicated staff and community members," said Bishop.
Bishop will be faced with many new responsibilities where it will be very important to have a smooth transition.
"I think the biggest change for me will be the actual day-to-day responsibilities. The assistant principal job has specific roles that are different from the principal position and vice versa," Bishop explained. "I think getting up to speed as quickly as possible is critical in order for me to be successful in this role. My plan is to work closely with Ms. Geary over the next two months to ensure a smooth transition."
Although this will be something completely new for him, Bishop is very excited and optimistic about the opportunity.
"There's nothing I'm not looking forward to. I understand there will be challenges and difficult times, but I feel like my experience here at the high school as both a counselor and assistant principal has prepared me for the opportunity. I'm also grateful to have an outstanding team around me that I can lean on for help and support," said Bishop.
The school committee will be working to find candidates for the full time position following their superintendent search. Bishop is hopeful that he may be considered during the process to fill the job.