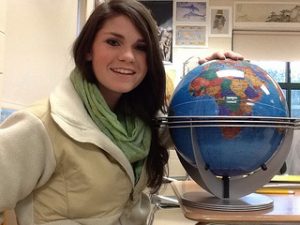 By Emma Flaxman
Mary Catherine Nealon followed a passion of hers this year by creating a new awareness and fundraising club at Hopkinton High school called Global Citizenship Club (GCC). Nealon hopes to use this club to shed light on the struggles of people happening daily in many countries around the world.
Nealon started this club after hearing stories from her brother Jack, who went on a semester at sea where he spent time in Ghana, Africa. One organization that really stood out to him was the City of Refuge orphanage for former child slaves. When Nealon heard about this she decided that she had to do something to help.
"I really want to open people's eyes to problems beyond our borders," said Nealon, "We could fundraise, get awareness of global issues starting with child slavery, and connect the school to something so much bigger."
GCC focuses on collecting money and having drives for clothing and supplies, which all goes to organizations that need help. Each club meeting consists of making plans for future events and ways to fundraise.
Katie Schneider, a sophomore club member said, "Our meetings are always fun, but you can still feel the magnitude of what we're doing."
GCC is new to Hopkinton High school; however, Nealon says that this is just the beginning,
"I truly believe in it and its capabilities. I want to see this club find it's ways into many other high schools and colleges across the country," said Nealon.
The other students that are part of the club are just as excited as Nealon.
Junior Ashley Scimone said, "I love how MC has so much enthusiasm and passion for this club. You can tell that it's close to her heart and I really feel that by joining this club we are making a difference in the world."
The possibilities of GCC seem endless and Nealon has high hopes for it in the future.
"Students working to make the world a better place is more powerful than any movement," concluded Nealon.