Principal Alyson Geary's Bittersweet Farewell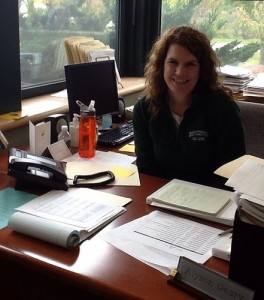 By Blair Guild
"Every child deserves a quality education," said Alyson Geary, the soon to be former principal of Hopkinton High School.
Principal Alyson Geary has taken a new position as Associate Director for the Commission on Public Secondary Schools in the New England Association of Schools and Colleges and is scheduled to leave HHS in December just before the winter break.
"Essentially what I'll be doing is working with a lot of different schools around New England to work on their adherence to the accreditation process. Basically, every school that's accredited has to live up to the standards that NEASC sets. My job is to help them do that by meeting with principals, giving them advice, and discussing ways that schools can do a better job meeting the standards," said Geary.
Geary is excited about her new position, but explained that it will be a big change. This is her first time not working in a school for 15 years, 8 of those years being at HHS. She will be working from an office while still regularly visiting schools across Massachusetts.
"Ultimately I want to help schools to become better and to make a difference. Instead of being a principal at a school, it's about helping other principals to do their jobs better," she explained.
Every region of the country has an accreditation association. The purpose of these organizations is to set standards for schools of the region and confirm their adherence to them. The standards include specifications for curriculum, instruction, types of assessments, school leadership, community resources, school resources, and more, in order to help schools become better educators.
"I had been working with NEASC on a volunteer basis for the last several years on the commission for public secondary schools. The commission itself is a group of educators that meet to review the accreditation statuses of different schools. When a position became available, they approached me about the possibility of working for them," said Geary.
Although Geary is leaving the school, her impact will remain for years to come.
"There are a lot of programs, like the 1 to 1 initiative or our advisory program, that I'm really proud of. It's certainly not all because of me, but I feel like I've been able to help them move forward, so I'm definitely proud of that," said Geary.
The educators of HHS reflected on Geary's impact on the high school. Assistant Principal Evan Bishop explained how he learned a lot during his time with Geary.
"She's taught me how to be a good leader, a good listener, and how to run a school. In terms of her vision for the school, she's done a lot of good things for grades 9 through 12. I think she's seen by the students as someone who cares," said Bishop.
Diane Maillet, the wellness teacher and advisor to the class of 2013, was particularly impressed with Geary's impact on the students.
"Generally the principal position is one that does not allow for the principal to get out and move around, but Ms. Geary has clearly made it a point that she loves being involved with the students," said Maillet.
Geary has had a great impact on the school, but the impact she leaves on teachers and students is far greater. She promoted students to live up to their potential and lead a positive lifestyle while encouraging teachers to support their students every day.
"Being a former theater teacher, she has a unique appreciation in not only nourishing individual students' creative abilities, but also giving them a place to belong," said drama teacher Valerie Von Rosenvinge. "Mrs. Geary is a friend as well as a boss," she added.
Geary is eager to begin her new career and embark on the opportunities that come with it.
"I'm looking forward to meeting a lot of new people and seeing different schools in action, whether it's a school in the city or out in the country. It will be great to get to know what characteristics make a good school in all parts of New England."
Geary believes that her decision to take the position from NEASC was the best move for herself and her career. However, she still feels invested in Hopkinton high school and explained that leaving will be bittersweet.
"I will definitely miss the people from Hopkinton the most. The students, the faculty, and the relationships that I've built with them… it will be hard to say goodbye to everyone. I hope that I leave behind the legacy that every student is important and that teachers need to see their classes from the students' perspective and focus on how they can help students to do better," said Geary. "When we focus on the needs of the students, we help them to move forward," she concluded.