Girls Cross Country Takes 5th Place at Invitational Competition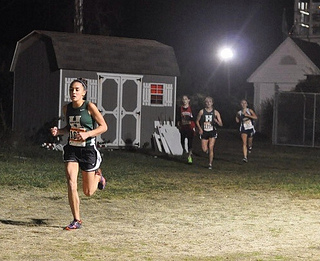 By Samantha Lee
The Hopkinton girls cross country team received fifth place with 124 points at the Bob McIntyre Twilight Cross Country Invitational at the Barstable Fair Grounds on Saturday, October 13. The races began in the late afternoon and ended at 9 pm, with a total of 2,756 runners competing in ten different races.
The Hopkinton team arrived with high expectations.
"Our goal heading in was to compete well in a state meet type field. We'd raced at two of the state invitationals, but this was the first where we'd see the best teams in Massachusets. A secondary goal was for fast times. I knew if we competed well then the fast times would come. The girls actually exceeded what I thought possible at this point in the season," said girls cross country coach Brian Hall.
The team's top seven girls all broke personal bests in the varsity race. Sophomore, Shelby Aarden, and junior, Melissa Lodge, the teams first and second runners, ran excellent races at 18:34 and 18:44, thus placing them at 5th and 7th out of 152 varsity runners.
"I was very happy with my individual performance, especially because I got a personal record. I am really happy for the team because we placed 5th and everybody tried so hard and did very well," said Aarden.
The girls team currently stands undefeated within the Tri Valley League, with a record of 7-0. However, state wide the team has somehow slipped by unrecognized.
"There's a weekly State Cross Country Poll, and heading in we were unranked, as in not in the top 35 teams. I knew we were a lot better than that and we'd prove it at this invitational," said Hall.
Before the meet on Saturday, the most updated rankings on milesplit.com placed the Hopkinton girls team as 30th in the state for both Division 1 and 2 teams. Above them were teams such as Dover Sherborn, ranked 26th, and Ursuline Academy, ranked 12th.
"In our Division 2 race, we beat Ursuline. We also raced faster than large school teams ranked 11th and 13th in the state, so I'm expecting we could be ranked as high as 12th in the State after this performance," noted Hall.
The Massachusetts State Track Coaches Association released an updated ranking on Sunday, October 14th. This list placed Hopkinton at 6th in the state for Division 2 teams, above both Dover Sherborn and Ursuline Academy, exceeding the coach's goals. Rankings on milesplit.com were also updated on the 14th. Hopkinton moved from its original position at 30th to 10th place in the rankings.