Dr. Steven Hiersche Begins School Year As Interim Superintendent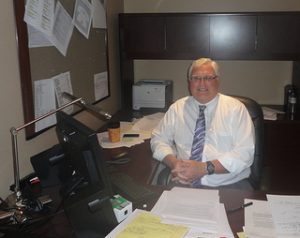 By Karissa Collins
This summer the Hopkinton School Committee named Dr. Steven Hiersche the interim superintendent after an extensive application process from a pool of eighteen possible candidates.
The process to narrow the search down to the final candidate took many steps.
"A Screening Committee consisting of Nancy Burdick, Johnathan Graziano (School Committee), Kim Pulnik (Director of Human Resources), Dr. Mary Ann DeMello (Assistant Superintendent), Mrs. Hackett (Director of Student Services), and Alan Keller (Middle School Principal) reviewed the applications and identified five candidates to recommend to the School Committee for interviews," explained Jean Bertschmann, member of the School Committee.
The School Committee was then able to narrow down the search to one final candidate.
"The School Committee decided to name Dr. Hiersche as the final candidate, pending reference checking and a 'Meet and Greet' opportunity with the administrators. School Committee members and several administrators conducted an extensive reference check by interviewing dozens of former co-workers in several towns where Dr. Hiersche has worked," said Bertschmann.
Dr. Hiersche comes from a very complex background in education.
"I've essentially worked in just about every job in education.  I was a math teacher and a computer science teacher at Westfield High School in western Massachusetts.  I also coached swimming and tennis…I was a high school principal in Vermont for a while…and I've been superintendent now for about 17 years.  In Massachusetts, I was superintendent in Plymouth, Watertown, and recently in Framingham," explained Hiersche.
With the start of the school year, Hiersche has gotten the chance to become comfortable with Hopkinton.
"I think all of my surprises [coming into Hopkinton] have been positive because…I have been surprised by how far along, from a technology standpoint, Hopkinton actually is and where the teachers are," Hiersche said.
Dr. Hiersche is also looking ahead to the goals he wishes to focus on this year.
"We still have the issue of figuring out a solution for the Center School, so that is something that we'll be working on this year…In addition is getting the changes to the common core for all of our curriculum material.  There is a new supervision and evaluation model that we have to have in place for teachers and principals," Hiersche stated.  "I've done a lot of work around 21st Century Learning and Global Education which is a lot of what is going on at the high school, so helping to figure out a way that my being here can enhance that for people and for kids…is really important."
Although working in Hopkinton was not originally part of his plan, Hiersche still looks forward to working in the Hopkinton school system for the year, and seeing where it brings him in the future.
"Applying for the interim position, seeing how the year goes, seeing what the school committee wants to do and what will happen in the future here is intriguing.  Working in a high performing school district is kind of exciting too because it takes out some of the other things you have to do and allows us to focus on high achievement for [the students]," said Hiersche.