Yale's Newest Player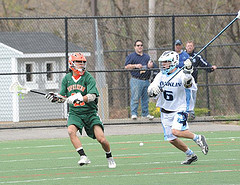 By Souyma Mehotra
Everyday after school is released at 1:50 pm, Jonathan Lee hurries to the boy's locker room to change for his lacrosse practice or game. For most people, this would be a hassle, and typically other players have a little chat with their friends before becoming ready for practice. However, that is not the case for Lee, he cannot wait to get out onto the field and start passing the ball around with his teammates.
It is coming to the end of Lee's Hopkinton High School lacrosse career. With the time and effort he has sacrificed, there is no doubt he will succeed in his talent of playing lacrosse at Yale University next spring.
Lee's opportunity of attending Yale University started his junior year of high school when their lacrosse coach came to watch him play. With Yale being a prestigious school and having a well-known lacrosse team, Lee was ecstatic to know they were considering him for a position on their team.
"I especially loved Yale because of the academics as well as having a very good lacrosse team," said Lee.
However, Yale University was not the only University that wanted Lee to play for them. Brown University, Georgetown University, Colgate University, Middlebury College, Stony Brook University and the United State Air Force Academy also showed interested.
"The fact that Yale University even considered me to be part of their lacrosse team and then ended up accepting me shows that all my hard work paid off and playing lacrosse all these years was worth it," said Lee.
"Since the start of my lacrosse career, I played midfield. I get to score when I want, but also defend when needed," said Lee.
Starting at the age of 9, Lee has played on numerous teams including Team Central and NESLL (New England Select Lacrosse League) "My favorite team was probably NESLL, which I played at the age of 11 through 15, because it had both the competitive and fun sides to it," said Lee.
Lee has been playing on the Hopkinton High School varsity lacrosse team since the age of 14, his freshman year. According to Jack Hilger, friend of Lee, the lacrosse team has improved tremendously these past 4 years because of Lee's performance in the games.
Lee's High School Coach, Justin O'Leary explains, "John definitely stands out in our team, he works very hard and it has obviously paid off. I am so proud that he will be attending Yale next year."
Boston Lax has ranked Lee the third best midfielder in Massachusetts for 2011 and 2012. "Everyone knew he was great, but achieving this ranking just put him over the top and got him noticed by the public," said Coach O'Leary.
"Although my team this season isn't playing that well, with a 5-5 record, we still have time to improve. I know that with the dedication to the team from everyone on the team, we will definitely end the season great," said Lee as he talks about his lacrosse team at Hopkinton High School.
"J Lee, as we call him, is probably one of the few people I know that has a very balanced life. By that I mean, he is very well rounded, smart and athletic. What more can you ask for in a guy?" said Hilger.
"Everyone in school has been talking about how J Lee will be playing lacrosse at Yale next year. We are all so impressed and so excited for him," says senior Aoibhinn Rice, one of Lee's classmates.
Lee has become so famous for his lacrosse skills that he has a video of his highlights of his sophomore year of high school on YouTube. Everyday, this video gets more and more views and has already reached more than 3,000 views in the past year and a half.