New School Year, New Stressors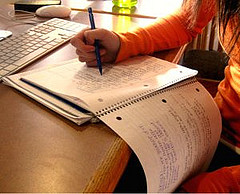 By Hannah Krueger
The 2011-2012 school year is swinging into gear, and HHS students of all grades are already starting to feel the pressure that comes with it.
At this time of year, most seniors are stressed about the college application process and SAT scores. Senior Connor Engstrom stated that the majority of his stress comes from trying to "balance school, sports, clubs, and at the same time have a social life."
As for younger students, sophomore Lauren Mechler said that her biggest stress is "balancing homework with a social life," and freshman Renèe Cooprider  stated she feels like she has "a lot of school work but not enough time to do it all."
HHS Principal Alyson Geary said she understands the stresses the students are feeling. She explained that stress never really goes away, but you have to learn ways that you can handle it. She also encouraged students not to put too much on their plate, and stated, "It is better to do a few things really well than try to do everything. You could very easily spend all of your time working, but that is unhealthy. You need to take care of yourself, which means sleeping and eating."
When questioned about the stress homework causes, Geary stated that "some homework is necessary to reinforce concepts," yet she understands that there "has to be a balance, because students have other commitments."
The HHS guidance department is constantly dealing with the stress the students are feeling. Ms. Greco, head of the guidance department, stated, "They feel as if they have to have a challenging course load, but that comes with a lot of homework and harder tests. This makes time management difficult, even if you are good at it."
Greco said that freshmen tend to be less stressed than students of other grades. The students'  stress level generally begins to build during sophomore year, and hits it peak during junior year. "Students are always hearing how 'junior year is the most important', and that just stresses them out more," she stated. As for seniors, she explained, the biggest stressor is the college process.
Greco's best advice for dealing with stress is to stop and take a breath; she explained that it is crucial for students to "stay healthy, eat, sleep, and exercise," and to have some time to relax.
The faculty would like the students of Hopkinton High School to know that their stresses are not going unrecognized, and that they always have people available to help.