Lady Hillers Come Close to Victory Against Undefeated Westwood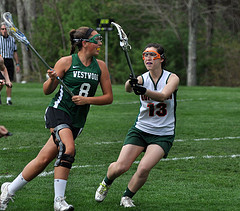 By Ryan McLean
On Friday, April 29th, the girls varisty lacrosse team lost a close game to Westwood with a final score of 14-10, dropping their record to 7-3.
One minute into the game, Junior Tam Mills scored the first of four of her goals that game.  Senior captain Brooke Rudden scored four goals as well, and sophomore Tess Chandler, who was fighting a stomach bug, finished the game with two goals.  "[Tess] is our number two scorer, she's one of our best defenders, and she leads the team in forced turnovers.  She missed the last two practices because she's had the stomach bug, so I just had to play her on attack.  That definitely hurt us defensively, but the girls played their hearts out," said Coach Jodi Dolan after the game.  "I think we did unbelievable, I'm very happy and proud of my team today," said Captain Brooke Rudden.
"We just came off a win against Holliston where we played like dog mess, and they knew I was mad that they didn't come to play Tuesday, and today they came to play," Coach Dolan said after the game, "I am so much happier with a loss against a good team when we played well."  Hopkinton girls lacrosse has never beaten Westwood.  Westwood is undefeated this year, but this was their closest game all season; no team has come within 10 goals of them up until now.
"We made some mistakes, but we are going to work on that. And that's what a good team does, it exposes that for you, and you go back to the drawing board and work on it," said Coach Dolan.