Varsity Boys Lax Dominates Holliston 20-8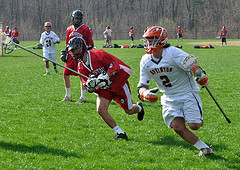 By Ryan McLean
On Tuesday, April 26th, the Varsity boys lacrosse team defeated Holliston 20-8 at home and improved their record to 5-3.
The Hillers came out of the gate a bit shaky, trailing 4-2 early in the first half.  Heading into half time, however, Hopkinton was leading 9-6.  After the half, the Hillers scored 5 quick goals.  "We had some momentum going into half time, and we carried it over to the second half, and we never took the foot of the accelerator," said senior defenseman, Max Robidoux.
At the end of the third quarter, the team had secured a confident 16-8 lead.  Senior Matt Manzella led the team with 7 goals and an assist.  Junior Jonathan Lee scored 4 goals and one assist, while senior Trevor Flaxman scored three of the team's goals. Seniors Max Robidoux, Nick Fournier, and Joey Grabmier had strong defensive performances.  "Our defense did a great job keeping the ball out of the peoples' hands we need to," Assisstant Coach Tim Joyce said after the game, "Our transitions were very good, we kept the ball in the air and our sticks."
Outscoring Holliston 11-2 in the second half,  Hopkinton was able to secure the win.  "This is the first time in our eight games that we had a solid second half, we're not usually a second half team, and this is the first game they really stepped it up and proved themselves," said Assistant Coach Joyce.
"Ever since we've played Holliston its always been close, it was nice to finally beat them like we should, and show them who we really are," said senior Defenseman Nick Fournier, "We played as a team, and it was really fun to play well."
The boys' next game is Friday, April 29th in Westwood.