Concert Band Takes Home Gold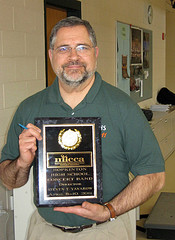 By Alyssa Carter
On Friday, April 8th, the Hopkinton High School Concert Band earned the coveted gold medal at the Massachusetts Instrumental and Choral Conductors Association Competition (MICCA).
Senior euphonium player Ryan Hendry said, "We've been working really hard for the past few months perfecting the three arrangements, and it really paid off tonight. Â I think that we did an amazing job."
The band has won gold medals at the competition several years in a row. Â "Anything but gold really wasn't an option," stated senior oboe player Joe Barra, "We weren't about to be the band that broke the tradition."
The band received mostly positive feedback during their post-performance clinic with one of the MICCA judges, who reminded parents that her minor critiques were only "fine-tuning".
As a result of earning a gold medal, the band has been given the opportunity to perform at either Mechanics Hall or Symphony Hall. Â Where they perform depends on how many students are available for each date. Â "Each year there is a struggle to get to Symphony Hall because we all want to go there more but find ourselves more available for Mechanics Hall," said senior tuba player Dan Quigly, "We have to work around the tight schedule of the locations themselves and our school vacation because some students are away. Â I have been to Mechanics Hall, and Symphony Hall would just be the perfect next level."